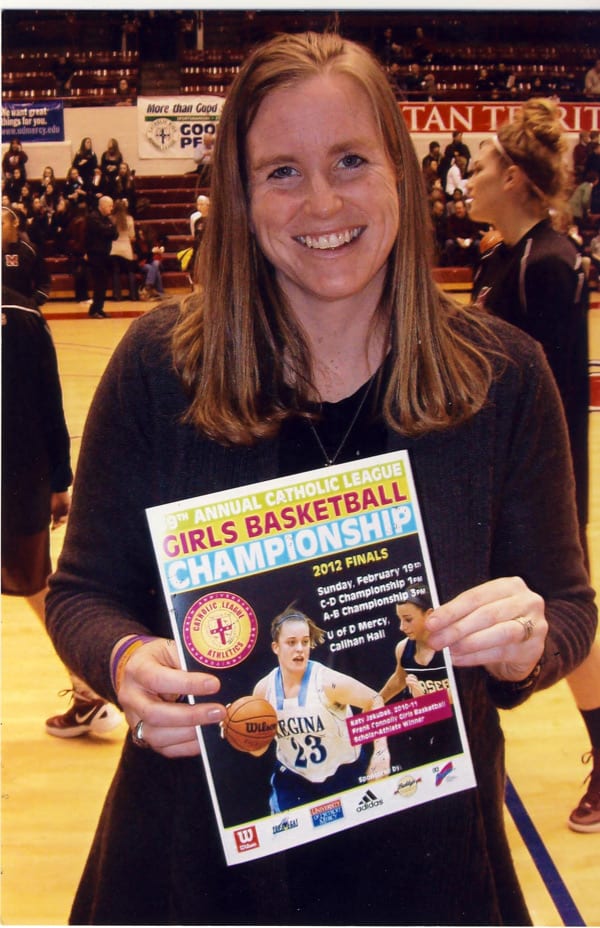 Photo by Daniel Gretzner
Divine Child head coach Mary Laney did another stellar coaching job with her lady cagers.
By Daniel Gretzner
Are the Lady Falcons of Dearborn Divine Child going to repeat the beat as state Class B girls' basketball champions?
With the semifinal and final games held this past weekend, DC is the one team among the final four having the honor of competing for back-to-back titles. They are the defending champs of the 2011 season and are on the verge of retaining that top status.
Because the games were played after the Times-Herald/Sunday Times deadline, most fans and followers of local prep basketball already know the outcome. The finals were to be played at 6 p.m. Saturday at the Breslin Center on the Michigan State University campus.
It has been another excellent run for the Dearborn parochial prep squad as they strive to take yet another hardwood state title in as many years. Head coach Mary Laney has done another stellar coaching job in keeping her DC hoopsters in a (24-2) winning record. They played Goodrich (26-0) in the late game on Friday.
A DC win versus Goodrich advances them to take on the winner of the Grand Rapids Catholic Central (23-3) vs. Freeland (22-3) semifinal game.
The Lady Falcons have played this season with a strong team concept. On the backs of their pregame warm-up jerseys is the slogan "We – Not Me," a message of togetherness that has helped the team bond over the long winter season.
Key players for the DC varsity squad are senior guards, Rosanna Reynolds and Cara Miller. Both have shown an ability to lead the way in scoring. The other senior members on the team include Mallaysha Cammon (center), Emily Grawburg (guard) and Shanna Morrison (forward).
In the end, this season may come down to what the 2012 Michigan High School Athletic Association Championships are all about. It can be a realization of three things that matter most at a time like this — One Vision, One Shot and One Moment.
No matter, what the outcome, excitement reigns during the month of March Madness.
GABRIEL RICHARD FALLS IN STATE QUARTERFINALS
William Jones, in his first year as girls' basketball head coach at Riverview Gabriel Richard, led his Lady Pioneers to a history-making season for the Downriver parochial school.
After winning their first-ever Catholic League CD Championship along with state district and regional titles, their season came to an end in Class C quarterfinals Tuesday to Grosse Pointe Woods University Liggett 65-29.
Until this year, Richard had never played in or won a title game during the long history of the Detroit Catholic League girls' tournament.