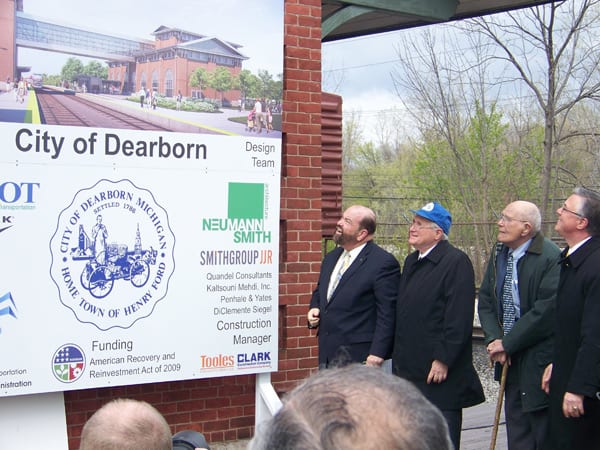 Photo by Sherri Kolade
Mayor John O'Reilly Jr., U.S. Sen. Carl Levin, U.S. Rep. John Dingell and other dignitaries stand in front of a Dearborn's Intermodal Passenger Rail Station poster naming sponsors and supporters of the $28.2 million federally funded project. The 16,000-square-foot station will be operated by Amtrak and will cover seven acres.
By SHERRI KOLADE
Times-Herald Newspapers
DEARBORN — A 12-year collaborative effort came to fruition April 10 as federal and state officials gathered at Greenfield Village for a high-profile construction launch ceremony for Dearborn's Intermodal Passenger Rail Station.
Dignitaries such as Mayor John O'Reilly Jr., U.S. Sen. Carl Levin, U.S. Rep. John Dingell, The Henry Ford President Patricia Mooradian and other key leaders kicked off the event by stepping off the train at Smith's Creek Train Station at The Henry Ford.
Mooradian said the rail station is an important component of Michigan's evolving transportation system.
"The Henry Ford has been intimately involved in this project for nearly a dozen years already," Mooradian said of the $28.2 million federally funded project through the American Recovery and Reinvestment Act of 2009.
The Act allocated the money to the Federal Railroad Administration High-Speed Intercity Passenger Rail Program. The funds are directed to the Michigan Department of Transportation for Dearborn's Intermodal Passenger Rail Station.
Mooradian said the station, slated for Michigan Avenue between Southfield and Brady, will help serve the transportation needs and interests of local and regional commuters, passengers and cultural tourists.
The 16,000-square-foot station will be operated by Amtrak, covering seven acres.
The existing service on Amtrak's Wolverine Line from Pontiac to Detroit will be transformed to a high-speed service between Detroit and Chicago, according to a city of Dearborn press release. The proposed commuter rail line is between Ann Arbor and Detroit. Some want to see the train commute to Ontario.
Some of the intermodal aspects are pedestrian friendly stations, along with inter-connectivity between buses such as SMART and Detroit Department of Transportation buses, along with charter buses, corporate and hotel shuttles, taxis and personal vehicles and bike racks. The idea is still being finalized, Dearborn Public Information Director Mary Laundroche said.
"The train station is a regular, full-service train station," Laundroche said. She also said the train will service people who want to go to Chicago or Pontiac and around metropolitan Detroit.
There will also be a taxi stand near the station, Laundroche said.
Some other features are easy access to The Henry Ford, Rouge River Gateway Trail, west Dearborn and the University of Michigan-Dearborn campus.
O'Reilly said the city has great plans to expand the line.
"To really generate a whole new opportunity (will) not only bring people from Michigan back and forth but draw people from all over the country to come here and be part of what we are doing," O'Reilly said. "It couldn't have happened without the support from Washington."
Levin said it is evident that Dearborn is a very progressive town.
"(It) has its eye on the future," Levin said. "As we celebrate both past and future here today, we celebrate it in the way that links past and future and that is railroad tracks."
Federal Railroad Administrator Joseph Szabo said FRA is proud to be a partner in the effort.
"The vision you have for this newly renovated station will help revitalize the west Downtown district and provide better connectivity for businesses and tourists here at the Henry Ford Museum," Szabo said.
"At FRA we have seen time and time again that these economic investments provide dividends for local communities with literally hundreds of millions of dollars in private investment that follows construction of stations like this one that will be underway here in Dearborn."
Szabo also said every dollar spent on rail infrastructure generates three times that amount in job creation and economic output.
The construction timeline began in March and is expected to continue through Fall 2013.