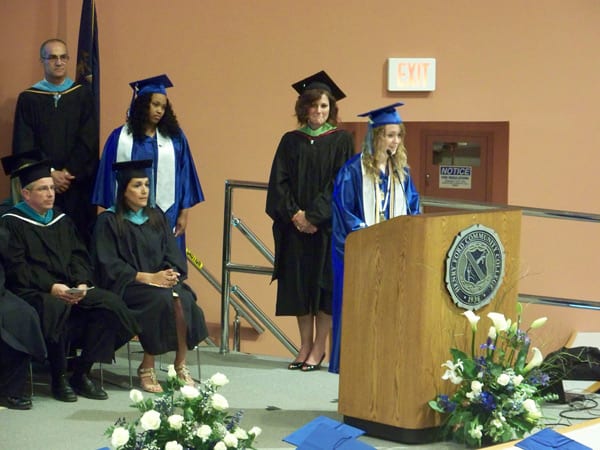 First HFEC diplomas
Photo by Sherri Kolade
Henry Ford Early College graduate Kelly Featherston (right) speaks before her peers and audience members during the school's first graduation. The five-year "middle/early college" high school started in 2007.
By SHERRI KOLADE
Times-Herald Newspapers
DEARBORN — Omar Alghaiti has big dreams.
And now the 19-year-old Henry Ford Early College student can further his aspirations to study mechanical engineering after graduating May 10.
"It is unbelievable," Alghaiti said of graduating. "I accomplished the academic challenge and that to me makes me feel good."
Alghaiti and 21 other students have every reason to feel good. They were the first graduating class from Henry Ford Early College, a five-year "middle/early college" high school
The purpose of HFEC is to prepare high school students for employment opportunities in the healthcare field. Students can earn an associates degree or certificate. About 14 students received their associate degree in addition to a high school diploma. Ten other students completed more than 40 college credits.
HFEC opened in 2007 as a five-year curriculum with approximately 40 ninth-grade students. HFEC is a collaboration between Dearborn Public Schools, Henry Ford Community College and the Henry Ford Health System.
The 2012 graduating class was honored at Henry Ford Community College's Forfa Auditorium May 10.
HFEC Principal Majed Fadlallah said it "indeed takes a village to raise a child" during opening remarks.
"This is a school that focuses on professional development and staff leadership," Fadlallah said. "(HFEC) is a comprehensive, academic, social and emotional support network… and that vision has manifested with our graduates."
Fadlallah said the graduates have completed college credits with an average grade point average of 3.51 and many of the graduates have earned associate of science degrees. Some have received job opportunities, he said.
"Their success and achievement could not have been possible without support from the education staff," Fadlallah said.
Decked out in royal blue caps and gowns, complemented by white tassels, the first class came down the steps into the auditorium full of roughly 80 family members and friends.
HFEC Graduate Aimee Slaughter spoke to her peers and the crowd describing her journey at HFEC during a student speaker segment.
"Looking out at you all this moment so many thoughts are running through my head," Slaughter said. "I think back to first day of the (first) year no one knew each other… during the third year it all seemed to come together, we all became close and we were a support system for each other."
Slaughter called her fourth year at HFEC a "year of dreams," saying career paths were decided, and in the fifth year, memories were made.
"It doesn't seem that long ago when I was in middle school telling people about this program," Slaughter said. "Many didn't believe it existed others doubted our success."
Many of the graduates were accepted into four-year colleges and universities including Wayne State University, Easter Michigan University, Central Michigan University and DePaul University in Chicago.
(Sherri Kolade can be reached at [email protected])