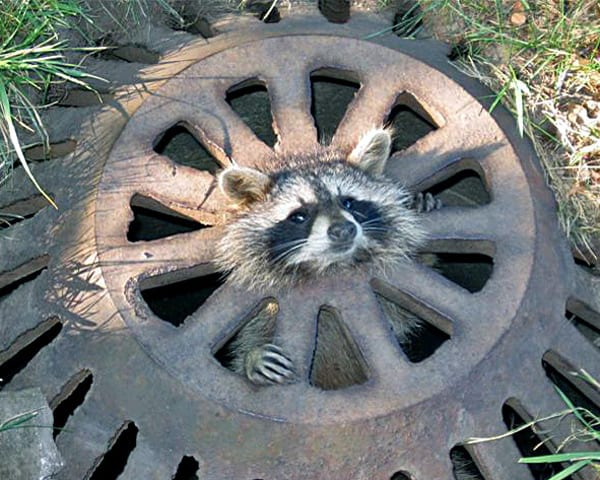 Photo by Robert Ankrapp
A young raccoon finds the escape route a bit difficult as he gets his head stuck in a Dearborn Heights storm drain cover Wednesday. DPW employees, using some vegetable oil, liquid soap and some TLC, managed to free the critter unharmed. After a much-needed clean-up and drink of water, it was released to a nearby wooded area.
HEIGHTS – While preparing to face the heat on the hottest days of the year, people worry about the safety and comfort of many around them, including parents, grandparents, neighbors, pets and a host of others. There are, however, many more residents in the community most don't even notice.
Fortunately, for one of these otherwise "forgotten residents," Department of Public Works Director Bill Zimmer took notice Wednesday and stepped in to help. As he was standing in his front yard, he spotted a baby raccoon hopelessly stuck in a sewer grate.
After closer inspection, Zimmer realized the critter's head was sticking out of the grate, after apparently climbing out of a storm drain along Ecorse Creek and becoming trapped. Realizing the urgency of the situation (and the quickly rising temperatures), Zimmer called on fellow DPW employees Don Sepanski, Sean Moylan and Carl Kennedy for help.
Armed with vegetable oil and dish soap, they quickly went to work. The manhole cover was carefully removed, and with some elbow grease, determination and a little TLC, the furry friend was freed and placed in a cage for a trip to the DPW yard for a much-needed shower.
Once cleaned, watered and cooled down, the unharmed raccoon was set free in a nearby wooded area to enjoy the rest of the day's heat wave in a familiar (but cooler) habitat.
Mayor Dan Paletko was pleased to learn the story had a happy ending, and applauded those who made the effort to help an animal in distress.
"The city appreciates all its workers – particularly those who are required to work in the elements all-year long," he said. "It's gratifying to see the care these employees take to ensure all our residents have a great city to live, work and play in.
"Please keep this in mind as we see road, water and sewer repairs in progress, as well as street sweeping, tree trimming and snow removal – and join me in recognizing their efforts for not only a job well done, but a job done with a love for our city."