Samantha Weinstein in "Jesus Henry Christ"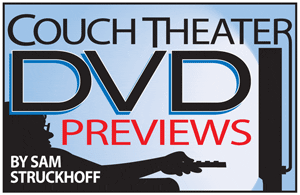 PICKS OF THE WEEK
"The Hunter" (R) — Willem Dafoe plays a grizzled gun for hire sent on a hunt for the elusive Tasmanian tiger. In the Tasmanian wilderness, he stays in a run-down old house with a family that also is in search of the supposedly extinct tiger. Deep into the jungle, Dafoe realizes that the shadowy organization that sent a lone gunman across the world to bring back DNA samples from a rare animal could have hidden motives and might even be untrustworthy.
The plot can get as dense as the jungle, making it hard to appreciate what's going on. Like a real hunting trip, much of the time is spent on getting there, setting up and then waiting. It's not an intense thrill ride, and the plot can get in the way of the character's journey. But although "The Hunter" can be hard to get into, it's not your common fare.
"Treasure Planet" (PG) [Blu-ray] — This animated Disney adventure originally hit theaters in 2002 without making much of a splash. Now on Blu-ray, this science-fiction reimagining of the classic "Treasure Island" story has another chance to wow audiences.
You see, since 2002, attitudes have supposedly changed about pirates, and the movie's main voice actor, Joseph Gordon Levitt ("Inception" and "500 Days of Summer"), has become more of a rising star. The movie's combination of hand-drawn and computer-generated animation should hold up pretty well under the light of the Blu-ray.
"God Bless America" (R) — Frank (Joel Murray) is a bitter, sad, divorced and dying man, and he's our hero in this film. In his bleakest moment, Frank finds comfort in killing reality television stars and other obnoxious jerks. Teenage Roxy (Tara Lynne Barr) is just as misanthropic, and admires Frank's initiative. The two team up for one big road trip and killing spree against the brain-dead denizens of pop culture.
So it's a dark kind of comedy. The kind of comedy where you're supposed to laugh when somebody gets killed for being annoying, feel bad about it for a second, then laugh at the next thing. The outrage and indignation behind the script can get a little overbearing. Certainly not for everyone, but worth checking out when you feel like you've had enough with the pop culture sideshow.
"Jesus Henry Christ" (PG-13) — This movie may be too quirky to live. Wonder-kid Henry James Herman is 10 years old and already wants to go to college. When little Henry starts asking his single mother about the identity of his father, two families are pulled together into a vortex of uncomfortable, cutesy weirdness. Even lovers of the odd and eccentric might find this one to be just too forced.
TV RELEASES
"Midsomer Murders, Set 20"
"Inspector George Gently, Series 4"
"Dynasty: The Sixth Season"
"Mannix: The Seventh Season"
"Rocko's Modern Life: Season Three"
"The Women of SNL"
"Man vs. Wild Season 6"
© 2012 King Features Synd., Inc.