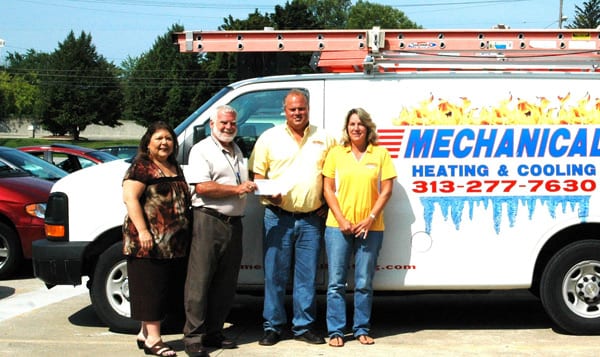 Photo by John Allevato
Mechanical Heating & Cooling of Dearborn will provide the grand prize valued at over $5,000 for this year's Smoke On The Grill raffle. Dearborn School Board Trustee and Dearborn Parent Teacher Student Association member Roxanne McDonald (left) and Dearborn Goodfellows President Larry Johnson accept the prize certificate from Joel and Roxanne Wensley, owners of Mechanical Heating & Cooling.
DEARBORN — The Dearborn Goodfellows with assistance from the Dearborn Parent Teacher Student Association will host the 15th annual Smoke on the Grill Sept. 27 at Ford Field Park.
Tickets are $30 for adults and $10 for children, and include dinner, drinks and entertainment.
The Henry Ford Community College Big Band headed by Rick Goward will provide the entertainment. The band recently returned home after a tour in France where it performed at Europe's oldest jazz festival on the French Riviera and other venues across the country.
Mechanical Heating & Cooling of Dearborn has sponsored the grand prize, which is a new Carrier 95 percent efficient furnace, new White-Rodgers digital programmable thermostat, a 10-year warranty, permits, and full installation, labor and parts. Raffle tickets are $5, and no more than 1,000 will be sold.
"We are lucky in Dearborn to have so many organizations and individuals willing to lend a hand and help out," said Mayor John O'Reilly Jr., honorary chairman for the event. "The Goodfellows' Christmas campaign and the PTSA support of the Dearborn Schools are very worthy causes. I look forward to being there."
To purchase raffle or dinner tickets contact Karl Fava at 313-359-9358. To purchase advertising space on a banner, call Goodfellows Executive Director John Allevato at 313-563-0096.
Allevato laughingly explained that last year a local businessman was pretty upset when he arrived at the Smoke and realized that he did not order a banner. "The fellow was pretty embarrassed to see so many business banners hanging but his name was not up there," Allevato said. "He has already ordered his banner for this year so I know it won't happen again."