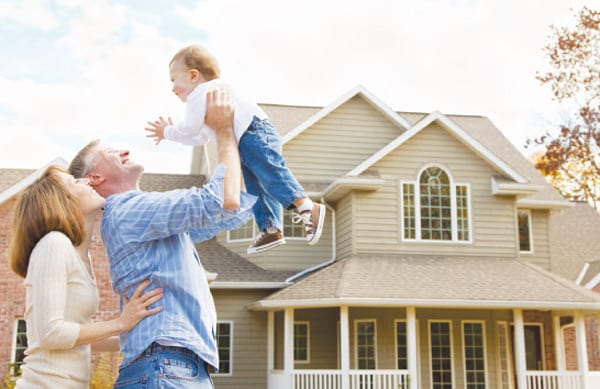 Photo courtesy of Getty Images
(Family Features) No one likes to think about bad things happening to their home or family. But things like home fires do happen – more often than you might think.
Home fires kill an average of seven people every day, and they cause billions of dollars in property damage. "We know fire safety is important to families," said Michelle Atkinson, Vice President of Marketing for Energizer North America. "Energizer is proud to partner with the International Association of Fire Chiefs and 6,400 fire departments around the country in their long-standing commitment to spreading the lifesaving message of fire safety and preparedness with tips like these."
Here are some easy steps you and your family can take to protect your home and each other, and to understand the basics of fire safety.
Your Best Defense
According to the National Fire Protection Association (NFPA), working smoke alarms are your best chance for escaping a home fire. They can alert you to a fire 24 hours a day, seven days a week, whether you're awake or asleep.
-11 p.m. to 7 a.m. are the peak alarm times for home fire deaths – when people tend to be asleep and the house is likely to be dark.
-On average, families have less than three minutes from the time the first smoke alarm sounds to escape a fire.
The NFPA says that in the U.S., almost two-thirds of home fire deaths resulted from fires in homes with inoperable smoke alarms or no smoke alarms. In reported home fires in which the smoke alarms were present but did not operate:
-Half of the smoke alarms had missing or disconnected batteries. Nuisance alarms were the leading reason for disconnected smoke alarms.
-Almost one-quarter (23 percent) of the smoke alarm failures were due to dead batteries.
-Only seven percent of the failures were due to hardwired power source problems, including disconnected smoke alarms, power outages and power shut-offs.
Fire Safety Checklist
Install smoke alarms on every level of the home and outside each sleeping area.
-Best location – On the ceiling in the center of the room, at least 12 inches from any wall.
-Second best location – On a wall 12 inches below the ceiling.
Test alarms once a month.
-To reach it, stand on a chair or use a broom handle, and push the unit's test button. If you don't hear anything, the battery is probably dead. If the unit still doesn't sound after you've changed the battery, replace it with a new smoke alarm.
Change batteries at least once a year.
-The clock change for daylight saving time is an easy way to remember to change your batteries, as well.
Install a fire extinguisher in or near the kitchen.
-Use a multipurpose fire extinguisher suitable for use on multiple flammable materials.
-Check the pressure regularly to make sure it's at the recommended level.
Keep flashlights with fresh batteries at your bedside for help in finding the way out and signaling for help in the event of a fire.
Develop and practice an emergency escape plan.
-You can download a free Escape Plan Grid at www.energizer.com to help.
Fire Facts
The United States Fire Administration (USFA) believes that fire deaths can be reduced by teaching people the basic facts about fire. Here are some simple facts that explain the particular characteristics of fire.
Fire is fast.
In less than 30 seconds a small flame can get completely out of control and turn into a major fire. It only takes minutes for thick black smoke to fill a house. In minutes, a house can be engulfed in flames. If you wake up to a fire, you won't have time to grab valuables because fire spreads too quickly and the smoke is too thick. There is only time to escape.
Fire is hot.
A fire's heat alone can kill. Room temperatures in a fire can be 100 degrees at floor level and rise to 600 degrees at eye level. Inhaling this super-hot air will scorch your lungs. This heat can melt clothes to your skin. In five minutes a room can get so hot that everything in it ignites at once: this is called flashover.
Fire is dark.
Fire starts bright, but quickly produces black smoke and complete darkness. If you wake up to a fire you may be blinded, disoriented and unable to find your way around the home you've lived in for years.
Fire is deadly.
Fire uses up the oxygen you need and produces smoke and poisonous gases that kill. Breathing even small amounts of smoke and toxic gases can make you drowsy, disoriented and short of breath. The odorless, colorless fumes can lull you into a deep sleep before the flames reach your door. You may not wake up in time to escape.
For 25 years, Energizer and the International Association of Fire Chiefs have been spreading the life-saving reminder to change the batteries in your smoke alarms and carbon monoxide detectors when you change your clocks for the end of daylight saving time, and please remind your friends, family and neighbors to do the same.
Change Your Clock Change Your Battery(r) is part of the Energizer campaign – that's positivenergy(tm) – which combines a commitment to performance in products and responsibility in partnerships and pro-grams that make a positive impact on the world. Learn more at www.energizer.com.