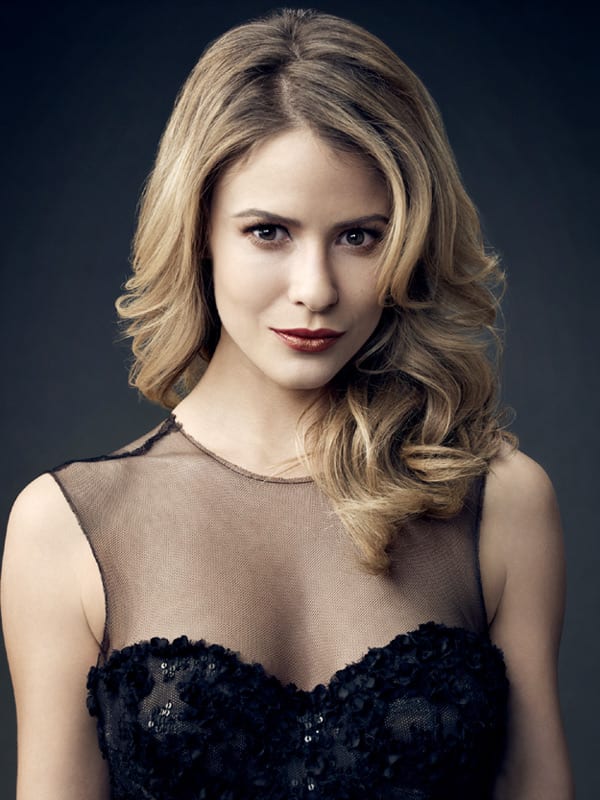 Linsey Godfrey stars as "Caroline" on "The Bold and The Beautiful."

THE BOLD AND THE BEAUTIFUL
Hope and Caroline traded accusations regarding the men in their lives and their standing in the company. Brooke tried to get Bill to snap out of his funk over Katie leaving him. Rick and Eric commiserated over the future of Forrester Creations. Liam told Steffy something surprising about his past. Taylor tried to make Katie understand that her postpartum depression was treatable. Brooke and Bill took a tour of Aspen in search of Katie. Stephanie began welcoming friends and family to her life-celebration party. Taylor confronted Katie about her matchmaking plans for Bill and Brooke. Wait to See: Caroline rebuffs Thomas' advances. Stephanie and Eric take a final trip together.
DAYS OF OUR LIVES
Daniel tracked down Nicole's doctor and found out she lost the baby days before her fall. John tried to get Sami to quit her job working for Kristen. Sami offered Nick a position at Countess Whilhelmina. Daniel confronted Nicole and said he knew she lied about Jennifer pushing her. John's paranoia kicked into full gear when Kristen showed up at the Horton cabin. Gabi and Nick declared their love for one another. Nicole jumped off the staircase at the town square but survived the fall. EJ made amends with Daniel. Kristen assured John that she only wanted his forgiveness. Abigail told Cameron that she was moving on. Wait to See: Marlena receives a mysterious text. Will receives some surprising news.
GENERAL HOSPITAL
Luke began investigating Duke's past in Turkey. Johnny felt a connection with Connie after initially keeping her at arms' length. Sabrina arrived at Emma's home for her birthday, just as the phone rang with Robin on the other line. Sam was determined to find Jason and bring him home to their baby. Maxie surprised Trey and Starr by reclaiming her apartment. Sabrina wanted to bring back the Nurse's Ball in honor of Robin. Lulu was worried that she and Dante wouldn't get approved by the adoption agency because of their families' reputations. Ellie asked Maxie if she could be her roommate. Todd feared that Starr knew about the baby switch. Wait to See: Monica gets desperate. Sam demands answers from Anna.
THE YOUNG AND THE RESTLESS
Adam assured Chelsea that he loved her and that he was only hiding Sharon because she had a breakdown. Nick threatened to sue Ronan if he questioned Noah again. Kevin was upset that Chloe decided to go into business with Chelsea instead of him. Victoria was being held for ransom. Katherine was surprised by Jill's return to Genoa City and suspected that she was in cahoots with Tucker. Phyllis witnessed a kiss between Nick and Avery. Jack was confident that he would walk again after his latest surgery. Chelsea realized that Sharon burned down the Newman ranch. Kevin was disappointed when Michael couldn't invest in his company. Wait to See: Lauren questions Fen's relationship with Summer. Phyllis and Nick go to court.
© 2012 King Features Synd., Inc.