Peter Bergman stars as "Jack" on "The Young and the Restless."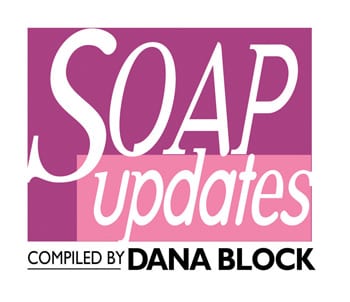 THE BOLD AND THE BEAUTIFUL
Katie finally understood that her perceived cardiac symptoms were related to her depression. Stephanie gave Brooke something to remember her by. Eric and Pam honored Stephanie's memory. Hope struggled with the news that Liam and Steffy were cohabitating. Bill and Brooke arrived home to find Katie fully recovered and taking care of her baby. Caroline overheard Bill talking about sabotaging the wedding in Italy. Katie wondered if Bill had truly forgiven her. Rick tried to talk Caroline out of going to Liam with the truth. Steffy confronted Bill about his feelings for Brooke. Wait to See: Thomas flaunts his power. Brooke is shaken up by a dream.
DAYS OF OUR LIVES
Nicole apologized to Jennifer for the grief that she put her through. At the last minute, Gabi decided not to terminate her pregnancy. Maggie gently warned Jennifer not to rush Daniel into an experimental treatment for his disability. Nick was shocked to learn that Will was the father of Gabi's baby. Kristen caught Marlena tapping into her computer. Stefano privately mourned the end of his marriage, even though he pushed for a divorce. Brady overheard Kristen admit that she might repeat her past mistakes. Nicole got a job as a secretary at Eric's church. Caroline returned from her treatment much earlier than expected. Daniel was devastated to learn that the injection had failed. Wait to See: Jennifer is in need of medical attention. Brady confronts Kristen.
GENERAL HOSPITAL
Molly admits to Starr that she's writing a novel. Lulu confided to Maxie about her struggle to get pregnant. Kristina thought she saw someone familiar dressed as a custodian. Duke asked Johnny not to tell Anna that he was smoking. AJ felt he didn't deserve an inheritance from Edward. Maxie offered to be Lulu's surrogate. Sonny tried to seduce Connie into revealing Kate. Starr urged Todd to read Molly's manuscript. Spinelli confessed to Ellie that Maxie was in love with him. Connie got caught up in reading Molly's book. Todd and Skye tried to stop Blair's wedding. Robert continued to needle Duke with questions. Wait to See: Helena Cassadine is alive and well. Molly's manuscript is missing.
THE YOUNG AND THE RESTLESS
Victoria was finally home. Billy warned Kyle that Jack would always put himself first. Victoria was devastated to learn that Billy crossed paths with Victor when he was missing. Tucker bought into Kevin's company after Adam made him a cheap offer. Chloe and Chelsea started a new fashion business. Tucker asked Jill out to dinner. Devon assured Cane that he wasn't going after his job. Jack appeared to be developing a painkiller addiction. Kyle told Phyllis that he wanted Adam gone. Phyllis told Ronan that she wasn't ready for a relationship. Christine planned to end her relationship with Danny so that she could be with Paul. Ronan moved back to D.C. Wait to See: A detective arrives in town looking for Noah. Jack's mood swings are out of control.
© 2012 King Features Synd., Inc.