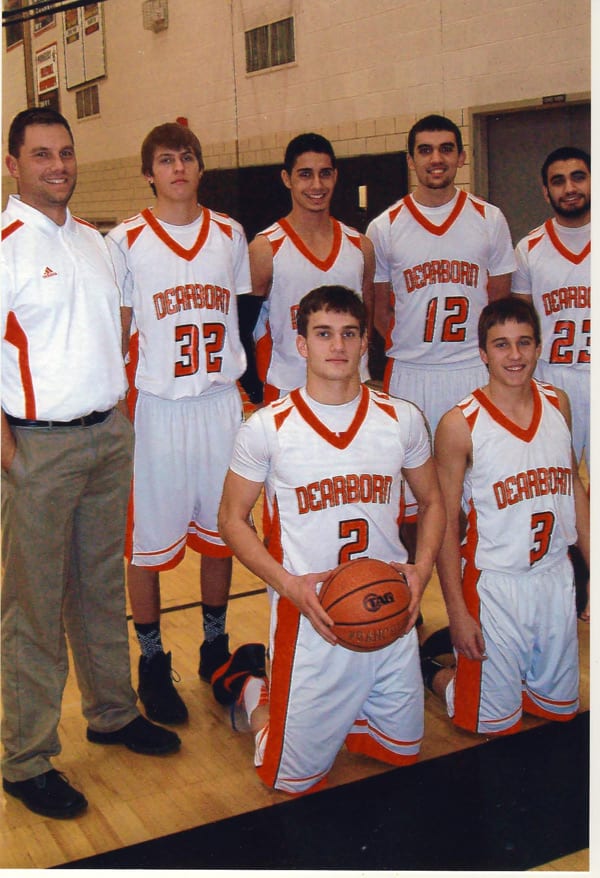 Photo by Daniel Gretzner
New Dearborn High School boys basketball head coach Matt Schleif (back row left) is shown with senior players Ollie Ajami (front row left), Cody Bruce, Thomas Pruett (back row second from left), Ali Farhat, Hassan Safieddine and Ali Aljebury.

Matt Schleif is the new head coach of the 2012-13 Dearborn High School boys varsity basketball team. He is the newest mentor, replacing long-time coach Kevin Barkoff, who stepped down after last season.
"I have a good team," Schleif said. "The kids are working hard and we are off to a good start."
He was speaking positively about his Pioneer cagers, who have opened the month of December with a 2-0 record.
DHS easily beat its opponents, Livonia Churchill, 70-50, on Dec. 4 and Riverview, 65-38, to start the regular season. Both of those games were non-league tune-up tilts as the Pioneers get ready for Western Wayne Athletic Conference competition.
Ali Farhat, a 6-1 senior guard, is the team's scoring leader. He hit for 37 points against Churchill and burned the twine for 26 against Riverview. Farhat has now scored more than 1,000 career points during his varsity days at Dearborn High.
Six seniors on the DHS roster are Farhat, Ollie Ajami, Cody Bruce, Ali Aljebury, Thomas Pruett and Hassan Safieddine.Safieddine, at 6-2, holds down a forward spot while the other five are guards.
"The senior group brings experience to the team and I anticipate that we will be very competitive as the season moves along," Schleif said.
Assistants on the DHS coaching staff are John Powell, Dave Mifsud and Mark Walters.
The Pioneers played arch rival Edsel Ford at home Friday. They will travel to meet cross-town rival Fordson on Jan. 11. All of the games between the three public Dearborn prep teams take place in the Blue Division of the WWAC.
Last year, Dearborn won the cage wars in the head-to-head battles on the hardwoods. Will that change in the 2012-13 season? Fordson should field an improved team while Edsel Ford has not done well in boys basketball over the past few seasons.
May the best team win.