Rodriguez in "Sugar Man"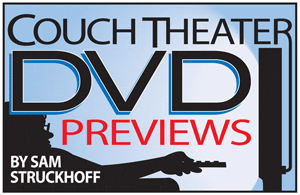 PICKS OF THE WEEK
"Searching For Sugar Man" (PG-13) — Rodriguez was a singer/songwriter who had that Bob Dylan folk-singer sound and insightful lyrics, with an urban, Mexican-American influence that made him unique. Rodriguez became a '60s icon, but only in South Africa. This documentary follows two South African fans as they search for the truth about what happened to the pop star who slipped between the cracks.
It's a rather upbeat tale. Rodriguez's career slipped into obscurity, he never made any money from his South African record sales, and the rumor mill over there says that the singer committed suicide on stage. However, the film gets to the truth of the matter — and the way people were affected by his music — and delivers an intriguing and uplifting story.
"End of Watch" (R) — Two patrol cops in LA (Jake Gyllenhaal and Michael Pena) dive into a whirlwind of violence and corruption to take down a parasitic gang. Written and directed by David Ayer (creator of the gripping and successful "Training Day"), the story attempts a gritty look at what it's like for two pals on the bottom of the chain-of-command when they pick a fight with a much larger force.
The movie feels a little distracted. There's this gimmick where all of the footage is supposedly from small camera worn by the cops themselves, but that goes away when it doesn't work. It has a lot of banter between cops as they drive around, but it doesn't create that same sense of reality or tension that made "Training Day" so forceful.
"Universal Soldier: Day of Reckoning" (R) — Jean-Claude Van Damme returns for this fifth and final installment of an action series from the early '90s. It is quite violent, gory and over-the-top, everything you want from a JCVD video rental. The plot involves revenge, genetically modified super-soldiers, lots of kicking and a few little plot twists. If the "Expendables 2" seemed too tame and you need to revisit the kind of action that inspires such tributes, pick up "Day of Reckoning."
DOG OF THE WEEK
"The Paperboy" (R) — This ridiculous film goes into the swampy land of South Florida in the '60s to tell a convoluted story about creepy, sweaty people who like to yell, murder and talk about intercourse. Matthew Mcconaughey plays a reporter who wants to investigate the story of death-row inmate, John Cusack. Nicole Kidman plays Cusack's lover, but then she falls for the younger, more shirtless, Zac Efron. The film attempts to be in your face and sultry, but just comes out silly and kinda gross.

TV RELEASES
"The Men Who Built America"
"Scarecrow & Mrs King: Complete Fourth Season"
"Young Justice Invasion Destiny Calling: Season 2"
"Wild Kratts: Lost at Sea"
"Iron Man: Armored Adventures Season 2 Vol. 3"
"Kendra: Season 4"
© 2013 King Features Synd., Inc.