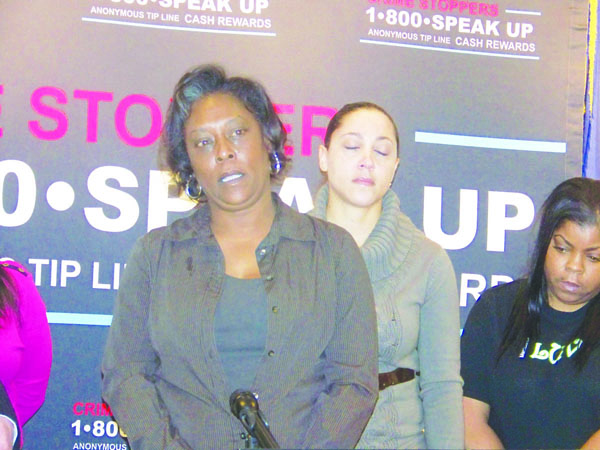 Photo by Sherri Kolade
Dynasty Myles' aunt, Sherrie Paymond, asks for the public to help police find her niece.
By SHERRI KOLADE
Times-Herald Newspapers
DEARBORN — With tears in their eyes, family members of a missing Detroit woman cried out during a press conference Thursday, and asked residents to help police find their relative described as a "joy" and "best friend."
Dynasty Myles, 23, has been missing since about 10 p.m. Jan. 1 and was last seen in the parking lot of Benihana, 18601 Hubbard Drive, near Fairlane Town Center, according to a police press release.
On Thursday, police asked the public if they know anything about Myles' contact them.
Myles, described as black, 5 feet 6 inches tall and 120 pounds with short hair and a butterfly tattoo on her neck, reportedly placed an order of food at the restaurant but never picked it up.
On a Benihana's surveillance video, she was last seen getting into a 2013 Dodge Durango, or a similar vehicle. Police declined to say if she was the driver or passenger.
Her silver Chrysler 200 was found the following day in the restaurant parking lot, according to police reports.
Myles' aunt Sherrie Paymond said her niece was "outgoing (and) a beautiful young lady."
"She has just been a joy to me," Paymond said. "Anybody that knows Dynasty Myles knows her family … and we have opened our hearts and our arms to every one of you. We are hurting. Please, if you know anything could you please contact Dearborn police? She is loved."
Paymond said Myles' 6-year-old daughter misses her mother.
"She is asking for her mother," Paymond said of her great-niece, who is staying with family members. "What do we tell a 6-year-old whose mother has been gone for (29) days?  I don't know what to say but …please."
Myles' stepmother, Tara Paymond, said Myles is her best friend.
"The rest of the family needs her," Tara Paymond said. "… We've been really, really close. She became my best friend. We hung out together I tried to guide her down the right road. If you know her, she is a great person… a good person.
Myles' cousin Monique Bankhead urged people to "do the right thing" if they know Myles' whereabouts.
"We are asking that you please pick up the phone and call and say something just to give us a peace of mind," Bankhead said. "We would appreciate it so much."
Police Chief Ronald Haddad assured the family that his department will leave "no stone unturned" in finding Myles' whereabouts.
"We will work with federal, state, county and regional partners to make sure we use all resources known to man to try to find Dynasty," Haddad said. "I am going to dedicate every resource we have at the police department to try to bring this case to an end. I'm also going to call on the great city of Detroit…"
Anyone with information related to Myles' disappearance or whereabouts is asked to contact Dearborn police. Anonymous callers may leave a tip at 313-943-3012 or call with any information at 313-943-2241 or go to www.speakup.org.
Police are offering a $1,000 reward for information that leads to Myles.