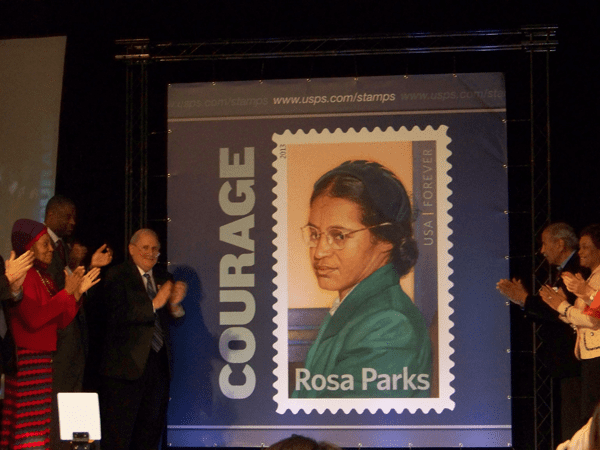 Photo by Sherri Kolade
Political and civic dignitaries unveil the new Rosa Parks Forever Stamp Feb. 4 during the Rosa Parks National Day of Courage event at Henry Ford Museum.
By SHERRI KOLADE
Times-Herald Newspapers
DEARBORN — She didn't have Facebook or Twitter to get her message of equality across.
But the 41-year-old woman who was tired from a long day's work told her message the best way she knew how — by staying seated for what she believed in.
Rosa Parks, who died in October 2005 in Detroit, was an Alabama-bred woman who helped light the fuse for the Civil Rights Movement.
Parks, a petite powerhouse, would have turned 100 years old on Feb. 4 and the Henry Ford Museum, along with the U.S. Postal Service, wanted to say "Happy Birthday" in their own way.
The museum hosted the Rosa Parks National Day of Courage, a day-long celebration, which featured local and national dignitaries, live music, and presentations, which included unveiling the Rosa Parks Forever Stamp.
Before Parks graced the cover of a stamp, she was born in 1913, in Tuskegee, Ala., where whites and blacks had separate drinking fountains and schools and segregation was status quo.
More than four decades later, on Dec. 1, 1955, Parks, a seamstress heading home from work, refused to move from her seat for a white man on a Montgomery, Ala., city bus. The bus now is part of The Henry Ford's collection.
Four days later a Montgomery Bus Boycott, a protest to segregated seating, ensued, in which blacks refused to ride Montgomery city buses.
The protest lasted from Dec. 5, 1955 to Dec. 20, 1956.
Eventually, the U.S. Supreme Court ordered Montgomery to integrate its bus system.
At the museum, people from different religious and ethnic backgrounds gathered on a cold, snowy day, sat wherever they wanted and honored Parks.
Hundreds of attendees listened to speakers such as U.S. Rep. John Conyers Jr. (D-Detroit) and Civil Rights leader Julian Bond, who said Parks "stood up for justice by sitting down."
"She became such an icon in American history and popular culture," said Bond, chairman emeritus of the NAACP.
Bond said Parks was not the first person to refuse giving up her bus seat to a white person, but she was the first person to plead "not guilty" during her trial.
"She was tired of second-class citizenship," Bond said, "but she never got tired of fighting. Even the years before the (Montgomery Bus Boycott) and many years after. It was my great pleasure to have known her over the years, precious memories."
Bond said the boycott introduced the Rev. Martin Luther King Jr., a 26-year-old Montgomery pastor, to the nation and the world.
"Although Martin Luther King played a crucial role in transforming a local boycott into a social justice movement, he was himself transformed by a movement he did not initiate," Bond said.
"Most of those who made the movement were not famous," Bond said. "They weren't the noted, they were the nameless. They were the marchers, protestors. We honor all of them today. They teach us what courage is."
Bond said Parks stood on the "right side of justice" her entire life.
"Thank you, Sister Rosa. Thank you, Rosa Parks," Bond said.
The Henry Ford President Patricia Mooradian said the national day celebrates the lasting and living legacy of Parks, a "social innovator."
"We ask all Americans to follow Rosa Parks' example and commit to taking a stand and making a real difference in the world," Mooradian said.
During the event, a presidential proclamation was read on behalf of President Barack Obama.
"Rosa Parks may not have been planning to make history, but her defiance spurred a movement that advanced our journey toward justice and equality for all," the proclamation stated. "As we mark the 100th anniversary of Rosa Parks' birth, we celebrate the life of a genuine American hero and remind ourselves that although the principle of equality has always been self-evident, it has never been self-executing."
U.S. Postal Service Deputy Postmaster General Ronald Stroman said everyday heroes make his job easier.
"That is part of the reason why we do this," Stroman said, "to remind people of our history, a collective history that binds the nation together. The Postal Service is proud to honor Ms. Parks with this new stamp."
Stroman said Parks' stamp is the second of three stamps this year that honor Civil Rights' Movement milestones. The first stamp, unveiled in January, celebrated the 150th anniversary of the Emancipation Proclamation, which freed slaves in the American South.
Stroman said later this year, a stamp will showcase the 50th anniversary of the March on Washington, which took place on Aug. 28, 1963, when more than 200,000 demonstrators marched for jobs and freedom.
"Together, all of these stamps tell the story of struggle that has spanned generations," Stroman said. "That is the wonderful thing about stamps. They are more than a postage. They are America's calling card. Stamps remind us of our history and help us appreciate our heritage."
(Sherri Kolade can be reached at [email protected].)