Genie Francis stars as "Laura" on "General Hospital."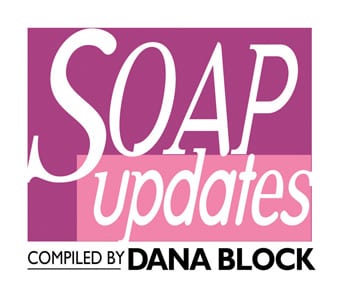 THE BOLD AND THE BEAUTIFUL
Carter explained to Dayzee the legal ramifications she could be facing. Taylor leaned on Eric after the stress between her family and Brooke's became too much to bear. Hope asked Rick to apologize to Liam. Pam and Donna were rightfully worried about Taylor. Marcus and Dayzee celebrated their first Valentine's Day as a married couple. Hope encouraged Brooke to find a new man. Eric confided in Taylor some of the intimate details about his marriage to Stephanie. Steffy insisted on keeping her pregnancy a secret so that it wouldn't be a factor in Liam's choice. Bill and Katie's romantic plans were interrupted. Wait to See: Hope turns to her ex-boyfriend Oliver for advice. Caroline skips out on her date with Rick.
DAYS OF OUR LIVES
Chloe and Daniel grew closer after their son fell ill. Eric didn't approve of Nicole's sexy outfit. Sami found a diamond ring in EJ's pocket. Stefano and Marlena discovered that they were actually on the same side. Rafe drowned his sorrows over Sami. Chloe intercepted Jennifer's apology to Daniel. EJ presented Sami with something else besides the proposal she was expecting. Gabi almost caught Nick listening to the blackmail material he had on Will. Kristen was moved by Brady's explanation for why he couldn't marry her. With Maggie's blessing, Victor paid Caroline a visit. Wait to See: Daniel invites Chloe to move in. Nicole tells Eric that she loves him.
GENERAL HOSPITAL
Luke kissed Anna after she questioned her instincts on the job. Britt blackmailed Maxie. Footage was captured of someone posing as McBain and letting Rafe out of jail. Luke's former flame Laura returned to Port Charles. Johnny asked to see Starr after his sentencing. Mac feared that Frisco wanted Felicia back. Lucy apologized to Kevin for leaving him unconscious at Ferncliff. Sabrina handed Patrick the wrong medicine, leading to a patient's death. Molly hid Rafe in her room. John enlisted Lucy's help in proving that he wasn't Caleb. TJ was heartbroken to learn that Molly had protected Rafe. Wait to See: Lulu receives an ominous gift on Valentine's Day. Duke gets his hopes up about Anna.
THE YOUNG AND THE RESTLESS
Avery wasn't sure if she could choose between Nick and Dylan. Jack warned Adam to always watch his back when it came to Victor. Sharon tried to fight her attraction to Adam as the two worked side by side. Victor asked Mason to switch out Sharon's bipolar medication. Abby returned to Genoa City and asked Jack if she could work at Jabot. Lauren blamed Michael for their son having to spend a night in jail. Carmen turned down Abby's advances. Jamie admitted he wasn't entirely truthful about the night he fell from the rooftop. Tyler watched from afar as Cane and Chelsea worked closely together. Avery had a flashback about Dylan. Tyler told Lily about Cane and Chelsea's new friendship. Wait to See: Abby is charmed by a new man. Michael struggles to fix his marriage.
© 2013 King Features Synd., Inc.