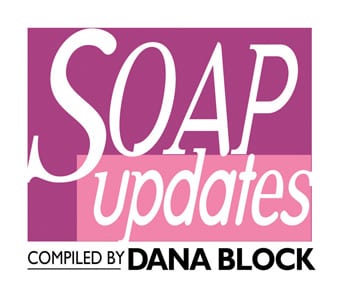 THE BOLD AND THE BEAUTIFUL
Brooke planned a surprise wedding for Liam and Hope. Meanwhile, Oliver told Hope that he still had feelings for her. A secretly pregnant Steffy heard her baby's heartbeat for the first time. Eric ordered his executives, Rick and Thomas, to get along for the sake of the company. Taylor and Steffy raced to stop Liam from making a big mistake. Caroline showed her true colors when she expressed her disappointment in Rick's plans for their date. Maya displayed an amazing vocal talent at Dayzee's. Taylor gave Brooke a piece of her mind for meddling in their daughters' lives. Rick ended up having a surprisingly good evening after Caroline bolted out the door. Wait to See: Sparks fly between Rick and Maya. Eric buys Taylor lingerie.
DAYS OF OUR LIVES
Chloe purposely got herself thrown out of Victor's mansion so that she could live at Daniel's. Nick continued to be haunted by memories of prison. Marlena received a disappointing phone call from John. Daniel assured Jennifer that he would live in a hotel while Chloe was at his apartment. Eric was knocked unconscious by a robber. A pregnant Gabi developed pelvic pain after an argument with Sami. Jennifer demanded that Daniel cut all ties with Chloe. Abigail confessed to Cameron that she was a virgin. The doctors were able to stop Gabi from going into early labor. Kristen insisted that she and Brady move into the mansion with Stefano. Wait to See: Nick threatens Sami. Someone tries to strangle Eric.
GENERAL HOSPITAL
Frisco pleaded with Maxie to give him a chance to be a father again. Lulu encouraged Mac to fight for Felicia. Connie accused Sonny of using her. Sabrina cheered up some after Patrick gave her a Valentine from little Emma. Spinelli helped Ellie cope with her physical limitations so that they could dance together on Valentine's Day. Olivia had a horrifying vision of Steve covered in blood. Kate re-emerged and remembered that Trey was her son. Sonny realized that he was now attracted to Connie. Steve didn't approve of his sister dating AJ. Sam awoke to find herself kidnapped by Caleb. Anna told Scotty that she and Luke were no longer dating. Wait to See: AJ discovers why he's having panic attacks. Lucy encounters Caleb.
THE YOUNG AND THE RESTLESS
Lily planted a passionate kiss on Cane after he questioned her loyalty. Victor asked Leslie why the congressman referred to her as Valerie. Summer admitted to Phyllis that she bullied Jamie. Jack wondered why Nikki was keeping her illness a secret from Victor. Avery told Dylan that the kiss they shared made her realize it was over between them. Sharon and Adam reminisced about New Orleans. Carmine invited Lauren to have dinner with him. Adrianna found Katherine stuck in a snow bank inside her car. Chloe realized that Chelsea was hiding something from Adam. Sharon and Dylan were in a car accident together. Wait to See: The Newmans move into their new ranch house. Phyllis turns the tables on Avery.
© 2013 King Features Synd., Inc.