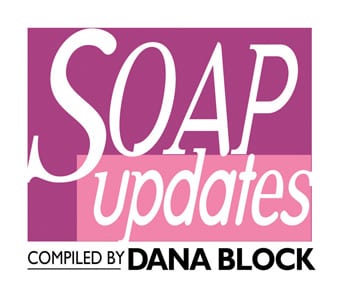 THE BOLD AND THE BEAUTIFUL
Steffy admitted that she finally announced her pregnancy in order to stop Liam and Hope's wedding. Taylor took pleasure in telling Bill that they were going to be grandparents. Refusing to be second choice, Steffy informed Liam that they would co-parent as friends. Bill encouraged Brooke to seek a promotion at work. Liam finally made his choice — Steffy — which resulted in Hope nursing a broken heart. Taylor and Eric felt that Stephanie would approve of their romance. Oliver revealed a long-kept secret to Hope. Wait to See: Carter receives an offer to stay in L.A. Rick's personal life gets in the way of his job.
DAYS OF OUR LIVES
Brady wondered about Kristen's true intentions after hearing her talk to Stefano. A junkie tried to strangle Eric during a robbery at the church. John hurried back to Salem after finding out that Brady was moving in to the DiMera mansion. Nick blackmailed Will into giving up his custody rights. Marlena warned Nicole to stay away from Eric. Daniel told Jennifer that he couldn't agree to her demands about Chloe. Sami had a plan to expose Gabi's past. Chloe decided to invite her mom, Nancy, to help take care of Parker. Jennifer told Daniel that she wanted to end their relationship. Abigail and Cameron shared an awkward moment. Gabi came up with a special name for her baby. Wait to See: Rafe and Kate make love. Nancy arrives in Salem.
GENERAL HOSPITAL
Kate was beside herself after realizing that her alternate personality, Connie, was responsible for her own son's death. Steve worried that Olivia's premonition about his bloody demise might come true. Frisco left Felicia a message trying to win her back. AJ told Elizabeth that he was suffering from PTSD. Caleb took Sam as a hostage and abandoned Daniel along the way. Rafe had a vision from his mother telling him that Caleb is his biological father. Tracy taunted Monica about ownership of ELQ. AJ summoned the courage to ask Elizabeth out on a date. Frisco had one final offer for Felicia. Patrick stood by Sabrina during the hospital's inquiry of the death of her patient. Wait to See: Anna offers her resignation. Laura sees Anna and Duke kiss.
THE YOUNG AND THE RESTLESS
Jack turned on the charm to woo Phyllis. Kyle told Summer that they were just friends. Christine enlightened Fen about her past with his father. Abby flirted with Alex in front of Carmine. Lauren shocked Michael by moving out. Phyllis called Avery a hypocrite after finding out about Dylan. Neil was impressed with Chelsea and her team's designs. Nikki's children assured her that they would help her through her health crisis. Dylan and Sharon bonded while he worked on her house. Leslie decided to come clean to Neil about her past. Michael offered Christine a job as district attorney. Kyle assured Jack that he and Summer were just friends. Wait to See: Michael struggles to save his marriage. Carmine promises Lauren he'll keep her secret.
© 2013 King Features Synd., Inc.