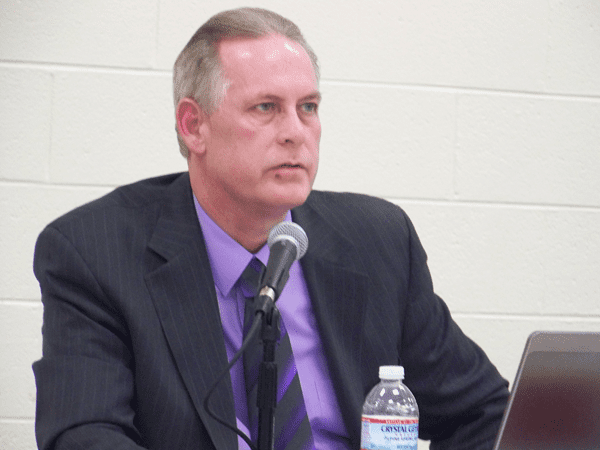 Photo by Sherri Kolade
Dearborn Heights District 7 Supt. Jeffrey Bartold listens to community members during a school board meeting March 4 at O.W. Best Middle School.
By SHERRI KOLADE
Times-Herald Newspapers
HEIGHTS — District 7 officials may soon vote to close an elementary school by the fall after a committee recommended the option to reduce the district's $1.4 million deficit.
The district's Elementary Building Reconfiguration Committee, formed in October, recommended closing Madison Elementary School, 4950 Madison St., to the Board of Education during a school board meeting March 4 at O.W. Best Middle School.
The deficit elimination plan has been in place since October.
The recommendation is based on a school board vote, scheduled tentatively for March 18, which would leave the district with three elementary schools — Bedford, Polk and Pardee — for its roughly 1,200 students.
O.W. Best Middle School and Annapolis High School are not affected by reconfiguration plans.
Supt. Jeffrey Bartold presented the reconfiguration plan to board members during the school board meeting.
Bartold said on March 5 that closing Madison is a necessary option to keep the district afloat.
"It doesn't make sense to leave four (elementary school) buildings when students fit in three elementary schools," Bartold said.
An informational meeting to discuss the plan in-depth with community members was scheduled for March 12.
If Madison is closed, one of the two reconfiguration options include housing kindergarten through fifth-grade students in the remaining three elementary school buildings, or placing kindergarten through first-grade students in one elementary school, housing second through third-grade students in a second school, and housing fourth through fifth-grade students in a third school.
Future reconfiguration plans include determining which schools will house Madison students and staff members, if the school is closed.
If Madison closes, between 15 and 20 teachers may be laid off, saving the district about $725,000. Remaining teachers will be transferred to other schools in the district.
Madison kindergarten teacher Kerri Sanders said she has accepted that her school may close after the March 4 board meeting.
"We've already swallowed that and it is time to move forward and do what is best for the kids," Sanders said. "Everyone has to be on the same team."
Sanders said even though the prospect of closing Madison is sad, the district and community members have to work together for the students.
"It is very sad because our staff is very close," she said. "(We are) a family."
Sanders said she plans to teach within the district if the board votes to close Madison.
Bartold said with the district's current kindergarten through fifth-grade structure, administrators' concentration is spread thin, but if fewer grades are housed together, students will benefit more.
"It is a better way to share resources since they will be in all the same buildings," he said of the reconfiguration plan. "If teachers are all in same building with the same administration, they can be on the same page. It is better when they are all together."
Bartold said district officials learned last February they would need a deficit elimination plan approved by the Michigan Department of Education. If a deficit elimination plan was not in place before the 2013-14 school year, state officials could place an emergency manager over the district, among other options, which would revoke the school board's power.
"The emergency manager does what he wants," Bartold said. "He could tell employees to take health cuts, and that is a possibility if we don't do anything. We are saying, 'We don't want that to ever happen.'"
District-wide elementary student capacity is more than 1,500. The district currently has about 1,200 elementary students. Elementary enrollment has steadily declined by 130 students over thpast four years.
Since 2004, D7's highest enrollment was 3,050 students in the 2009-10 school year. About 2,850 students currently attend D7 schools.
Bartold attributes low enrollment numbers to a low birth rate in Michigan, among other factors such as a higher number of families moving out of the city, along with more charter schools and students in a Schools of Choice program options.
SOC provisions of the State School Aid Act gives local school districts the option to enroll non-resident students and count them in its respective districts. Bartold said although about half of the district's students are SOC, many other students attend schools outside of the district.
Bartold said the Elementary Building Reconfiguration Committee recommended closing Madison because it is the smallest elementary school; other elementary schools had recent renovations and they could comfortably house Madison students.
The reconfiguration committee is comprised of a number of school board members, teachers, principals, secretaries and community members.
School Board Trustee and reconfiguration committee member Lori Fujita said after several reconfiguration committee meetings, the recommendation to close Madison was a hard, but necessary choice.
"The consensus of the committee is that this arrangement will allow us to offer more opportunities for our students to grow and learn, and to really make every dollar count," Fujita said. "Whatever happens (happens). Change is always scary, but I know this district can work together to do what's best for our kids."
Bartold said reconfiguring classes will be an adjustment if Madison is closed.
"Mainly changing of the grades are what people are not used," he said.
Velma Truitt, who has lived in Dearborn Heights for 42 years and whose grandchildren now attend D7 schools, said she does not want to see a school close, but the district has to make "aggressive" changes.
For more information about the reconfiguration plan go to www.district7.net/redesign.