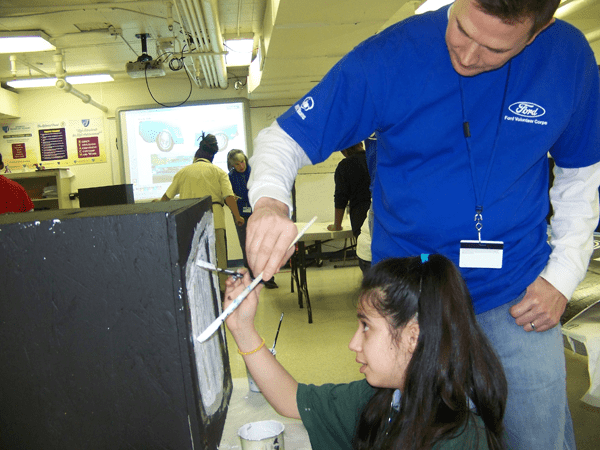 'Mustang' assembly line
Photo by Sherri Kolade
Advanced Technology Academy fifth-grader Briana Castro (left) paints a portion of a "Mustang" production set piece with Ford Distribution Coordinator Brad Jones.
By SHERRI KOLADE
Times-Herald Newspapers
DEARBORN — Throwback Motown songs filled a classroom March 14 as Advanced Technology Academy students and Ford Motor Co. employees danced while painting set pieces for an upcoming school production "Mustang."
ATA received $10,000 for the production. About $2,000 came from a Michigan Department of Arts and Cultural Affairs grant and remaining funds came from Ford Volunteer Corps, management company Technical Academy Group, Henry Ford Community College, ticket sales and program sponsors.
Director of Institutional Advancement Steve Quinlan said he has wanted put on a production for awhile.
"The whole concept is for students to interact with the Ford volunteers to get the students thinking about a (career) path that is good for them while they are in elementary school, middle school and high school and on into college," Quinlan said.
About 80 students are involved in the production, including actors and set designers. About 12 Ford employees are volunteering to help the students with the production, scheduled for debut May 18 at HFCC.
ATA officials partnered with Ford through an Advance Studies partnership, which lets Ford employees work with community members at schools and businesses.
On Thursday, a handful of Ford employees and ATA students painted pieces of a cardboard Ford Mustang, which will be applied to a larger piece, Quinlan said.
"Today is all for preparation to get the pieces done and shipped over to HFCC and bolted on to a platform for the lifesize Mustang car," he said.
Quinlan said he chose the "Mustang" production because it is a Ford car and it seemed like "the right touch."
He added that the production is a launching point for future productions.
"We really want to develop our performing arts program," he said.
ATA fifth-grader Samuel Biriac painted a few parts of the car's interior and said he loved every minute of it.
"(My teacher) told us about the project and whoever was bad was not going to be able to participate," he said. "I was good. I'm getting used to paiting. I've never done it before."
Ford employee Dee-Dee Boykin, who worked with Biriac and others Thursday, said she learned as well.
"It is great that schools allow themselves to be opened up and great to interact with the students," she said.
"Mustang" is a play made up of five scenes, each a decade apart. Every scene depicts events in the lives of people who owned, drove, or came in contact with the car.
Show times are at 2 and 6 p.m. May 18.
Tickets go on sale April 1 at ATA and are $5 in advance, $10 at the door.
(Sherri Kolade can be reached at [email protected].)