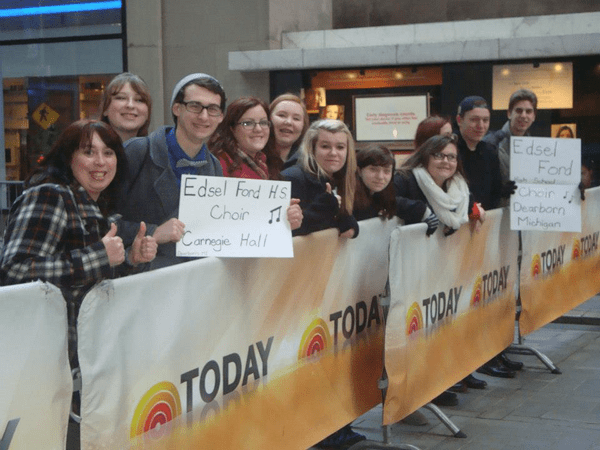 Photo by Mary Timpf
The Dearborn Edsel Ford High School Choir poses outside NBC Studios at Rockefeller Center in New York City, home to the "Today" show.
By SUE SUCHYTA
Times-Herald Newspapers
DEARBORN – Practice paid off for Edsel Ford High School's choir March 17 when they performed at Carnegie Hall, a prestigious music venue in New York City.
They were invited to sing the "Fauré Requiem in D Minor, Op. 48," conducted by David Rayl, director of choral programs at Michigan State University, with eight other choral groups, accompanied by the New England Symphonic Ensemble in Stern Auditorium.
The eight other invited choirs were the Michigan State University Choral Union, two church choirs, including the St. Thomas Aquinas Parish Choir from East Lansing, and five other high school choirs, from Arizona, Kansas, Minnesota, Montana, Ohio and Oklahoma.
Edsel Ford choir director Robert Doyle said performing was quite an honor, one they were pleased to accept. He sang with the collective choirs under Rayl's direction.
"Yes, I sang at Carnegie Hall," Doyle said. "It's not something that everybody gets to say. So it is a very humbling experience when you go in and you remember that this is where Marian Anderson sang, this is where Leontyne Price sang, this is where (Luciano) Pavarotti sang, all the greats through the years."
Nathaniel Booth, 17, a junior and a baritone, said performing at Carnegie Hall was one of the most frightening and beautiful things he could ever hope to do.
"I almost passed out for the first time when I saw the auditorium," Booth said. "You could hear every single note carrying across the room. It was gorgeous."
Clare Russell, 18, a senior and soprano, said performing at Carnegie Hall has been a lifelong dream.
"Stepping on the stage was a moment I will remember the rest of my life," Russell said. "Yes, I had to work to be able to perform there, but the hard work paid off."
Benjamin Timpf, 17, a junior and a bass, said the experience was emotionally moving, and a personal musical highlight he will cherish forever.
"Acoustically you could hear everything like it was next to you," Timpf said. "I could hear people flipping through their programs while we were singing. It was kind of weird — the whole experience was surreal."
Seventeen EFHS choir members and 12 adults left Detroit Metropolitan Wayne County Airport early March 14, arriving in New York City before noon.
After lunch in Times Square, the students attended a workshop with Broadway vocal coach Robert Marks at Studio 353 on West 48th Street, who helped them with individual audition pieces.
Early the next morning, the choral groups rehearsed the requiem together for the first time.
By noon, the group was free once again to explore New York City, visiting Central Park and receiving a guided tour of Rockefeller Center. That night they saw the lights of NYC from the Top of the Rock, the observation deck at the summit of 30 Rockefeller Plaza.
They departed for NBC Studios early the morning of March 16 to be part of the "Today" show crowd holding up signs outside the studio.
The group also window-shopped along Fifth Avenue, and saw St. Patrick's Cathedral, the largest Catholic cathedral in the United States, with soaring 330-foot spires.
Following a four-hour afternoon rehearsal for the requiem, the group saw a preview performance of the new Broadway musical "Motown the Musical" at the Lunt-Fontanne Theatre. They had an opportunity to go backstage afterward to meet some of the cast, including Jibreel Mawrey of Detroit, a boy who plays young Berry Gordy, Michael Jackson and Stevie Wonder in the production.
On March 17, before their evening concert, the group took the Staten Island Ferry to see the Statue of Liberty and visited the 9/11 Memorial at the World Trade Center.
The day of their planned departure, March 18, they visited Chinatown and Little Italy in the morning before arriving at LaGuardia International Airport for a late afternoon planned departure.
However, mechanical and crew delays resulted in the party not arriving at Metro until the morning of April 19.
Choir members, though, took the delay in stride, and said they helped each other out and bonded more during the delay.
Booth said that while waiting at LaGuardia Airport they played cards, danced around and even sung in the terminal, earning applause from other waiting passengers.
"Times like these we really help each other," Booth said, "We ran and got someone food so they could keep typing a paper, or (we were) used as a pillow for someone about to pass out."
Doyle said the trip was exciting and a bonding experience for his choir, who he said jokingly call themselves a "large dysfunctional family."
"But we really take care of each other and they really looked out after each other the whole time we were in New York," Doyle said. "They are tighter now than they ever have been. It was just an astounding artistic and personal experience for all our kids."