Photo courtesy of Sandi Orman
Ed Mierkowicz, Detroit Tiger Outfielder, 1945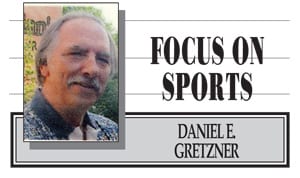 Ed Mierkowicz, a native of Wyandotte, once wore the old english "D" on his baseball uniform. That was back in another time, many decades ago – during the 1940s to be exact. Meirkowicz was a standout ahtlete who graduated from Wyandotte Roosevelt in 1942 and was a member of the Bears unbeaten championship team of 1942.
Raised in the Downriver area, Ed didn't have far to travel when he left Wyandotte to eventually play for the local professioonal team, the Detroit Tigers. He, for the most part, was a reserve outfielder for the Tigers and was good enough with the bat and his glove to make the big league roster of the hometown Tigers.
Back in the day, the lad from Downriver had a short career with the Tigers and St. Louis Cardinals. Mierkowicz was fortunate enough to be part of the Tigers American League championship team of 1945. It was in that year that the now old timer was able to celebrate being part of a World Series champion. Detroit beat the Chicago Cubs in seven games that season.
Thanks to Sandi Orman, who is a private nurse from Lincoln Park, for providing a photo of Mierkowicz from his playing days. Sandi was a medical friend of the family, who cared for Mierkowicz's wife a few years back.
In 1986, Mierkowicz was inducted into the Wyandotte Sports Hall of Fame. He continues to live Downriver and is a resident of Grosse Ile.
Through the years, the athletic ability of Downriver/Dearborn area youth has been steady in many sports, especially baseball.
For example, Derek Lowe, a product of Dearborn Edsel Ford, is still hanging on in the pro ranks. He was with Cleveland and the New York Yankees in 2012. His current team is Texas, where he made the Rangers' 2013 roster as a spot starter.
How well he will do this year is as questionable as when he will ever come back to Dearborn and visit his old high school. It happened one time, when Edsel dedicated its baseball diamond in his name. As a hometowner, we wish him well in his new Texas uniform.