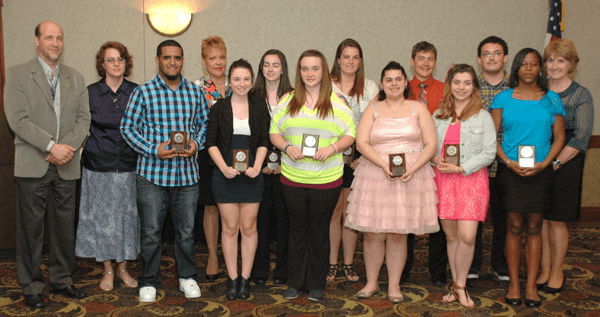 Photo by Margaret Blohm
Dearborn Rotary Club President Hassen Hammoud (left), Michael Berry Career Center teacher Erica Fulton, Berry Center Principal Winifred Green (fourth from left) and Dearborn Rotarian Sue Surducan (right) present Otto J. Rowen Scholarship plaques to Saqr Gelan (third from left), Alyssa Major (fifth from left), Samantha Thacker, Marisa Mitchell, Courtney Wensley, Joana Aldrich, Michael Watson, Emmanuela Jannaro, Mohammad Sharara, and Nicole Williams.
DEARBORN – Ten Dearborn Public Schools seniors received the Rotary Club of Dearborn's annual Otto J. Rowen Scholarship awards recently.
Scholarship recipients are selected as the best representatives of each of up to 16 vocational areas, demonstrate an interest in pursuing a career in their chosen vocation, show potential for future success in their field, and are recommended by their vocational instructors. Recipients received $1,500 each to use toward college expenses.
The scholarship funds may be used for classes, tuition, books, school fees and specialized equipment needed for the related vocational program for each student. Students who do not plan to attend college or pursue additional formalized training can use the money for equipment needed in their fields.
The recipients, and their vocational instructors are: Marisa Mitchell of Edsel Ford for Automotive, instructor Victor Gregory; Mohammad Sharara of Fordson for Business Education, instructor Carmen Rednic; Courtney Wensley of Dearborn High for Business Education, instructor Georgene Stergalas; Joana Aldrich of Dearborn High and Michael Berry Career Center for Culinary Arts, instructors Ele Shepherd and Julie Stahl; Alyssa Major of Edsel Ford and Berry Center for Health Occupations, instructor Jill Tarrant; Samantha Thacker of Edsel Ford and Berry Center for Health Occupations, instructor Jill Tarrant; Nicole Williams of Fordson and Berry Center for Information Technology, instructor John Bayeri; Michael Watson of Dearborn High for Marketing Education, instructor Sherry Harakas; Emmanuela Jannaro of Dearborn High for Video Production, instructor Kurt Doelle; and Saqr Gelan of Edsel Ford for Wood Technology, instructor Derek Clark.
Future endeavors for the honorees include architect, professional entertainment, supply chain management, physician, nurse, computer science, hospitality industry, accounting, CEO, and mechanical engineering. Schools they will attend include – Henry Ford Community College, Madonna University, Grand Valley State University, Michigan State, University of Michigan – Dearborn, Northwood University, and Wayne State University.
DPS Supt. Brian J. Whiston spoke at the event. Berry Center Principal Winifred Green presented the awards and described each student's accomplishments with assistance from Berry Center Career Tech Education Advisor Erica Fulton.
"The greatest thing for me was, reading the essays and then having a chance to meet the people that wrote them," said Rotarian Michael Sareini, a member of the six-person selection committee. "It was great to see young people that understand how important education is to their future, and can make the most out of the money available from the scholarships. It was an honor and a privilege to have served on the selection committee, and enjoy a great dinner with the students who received the scholarships."
The scholarships honor Rowen, a former Dearborn Rotarian, who was an industrial arts teacher at Fordson High School and later became principal at Woodworth Junior High School in 1928. In his estate, Rowen established a fund to assist career technical education students and special education students.
Go to www.dearbornrotary.org for information about the scholarship.