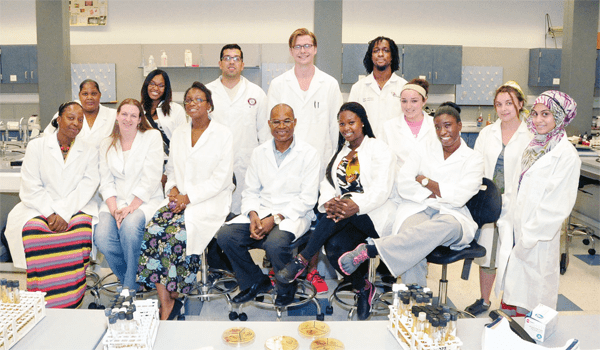 Photo courtesy of Wayne County Community College District
Dr. Christian Nwamba (front row, fourth from left) is surrounded by his students following a microbiology lab at the Wayne County Community College District Downtown Campus.
WCCCD Microbiology professor, who received the 2013 Exceptional Faculty Award, said he uses his humble beginning and lessons from his father to impact the lives of students.
By David C. Butty
DETROIT — Dr. Christian Nwamba, a Wayne County Community College District Microbiology professor, grew up in a very poor and remote village of Omuma, in Imo State, in Nigeria.
There, he attended both primary and elementary schools before moving on to attend high school in another town, away from his village.
He said his village, like most remote villages in Africa, had no public utilities like electricity, running water and sewage
system when he was growing up. These conditions, he said, forced successful individuals to build and provide such comforts privately for themselves and their immediate and extended family in the vicinity in those days.
"Such harsh realities of life in many of the Igbo villages in Nigeria became a major influence for any good child's aspiration,
determination and tenacity for academic, economic success to build a better life for themselves and their family," Nwamba said. "Living through and surviving the Nigeria-Biafra Civil War (1966-70) with its deprivations, starvations and hardship was another life experience that planted the seed of dreams to seek knowledge and success via education to the highest level possible. As a result,
I began my pursuit of a doctoral degree in the United States when the opportunity presented itself."
Today, Nwamba, a proud father and husband, is providing for his children those things that the impoverished condition in his home country could not allow his own father to provide for him as a child. He has come a long way from his native land, and is now a tenured professor in microbiology at WCCCD. He is one of the pioneer undergraduates from the University of Port Harcourt in Nigeria,
where he obtained a bachelor of science degree in Zoology, and holds a doctorate in biology from Wayne State University.
Along the way, Nwamba said, he is thankful to those who made his educational journey a very successful path. He said as a teacher, there is nothing more pleasant than for a student to show appreciation at the end of a semester or quarter on what they have learned from that class.
"One of my recent students wrote: 'Dr Nwamba, thank you so much for an amazing summer semester!'" Nwamba said. "'This is the first college science class I actually learned something in and felt that the professor cared about my success in the class! Hopefully, I can take all that you've taught me back to my university and have a good fall semester.'
"It is such comments and testimonies of success by my past students
among other things that gives me the joy to teach."
He admits that the path to his educational journey had not always been easy, but that he took on the courage and lessons from his father, who also was an educator.
"It is such early life experiences and guidance from my father, a seasoned teacher (and) educator and disciplinarian, which helped to form my philosophy about the importance of education," Nwamba said.
"Our students here at WCCCD have much better opportunities
and chances to succeed in today's higher education institutions if they can take advantage of the enormous resources here, exercise discipline and remain focused on their main purpose of coming
to the institution."
Nwamba said he has no magic wand in presenting his materials for students to understand, but added that what gives him added joy to teach is the simple fact that he sees teaching as a form of transformation.
"It is an opportunity to transform my students from what they are not at the beginning of the semester to what they want to be and should be at the end of each semester," Nwamba said. "I believe that all the teachers that taught and touched me starting with my parents in the early years of my life to all the teachers and professors from the elementary, secondary and universities I attended transformed me.
"My students deserve similar opportunities to be transformed to be productive, successful, confident members of our society
and that is why they are here at Wayne County Community College District, or any other higher institution they find themselves.
"I also draw passionate interest and strength to teach from the positive reactions and desire for educational advancement by the students that have passed through my class coupled with the appreciative gestures of this institution such as (the) Exceptional Faculty of the Year award and other such awards or rewards to faculties for excellence in their various roles at the college."
Nwamba also is a community leader and activist, and in his native village of Omuma, he was bestowed a chieftaincy title of "Ezeudo 1" of Umuhu Omuma, where he is honored and greeted by proper homage that is reserved only for exceptional community leaders of his caliber.
He has sponsored the drilling of several boreholes for water supply,
renovation of some elementary schools and provision of electricity in the community he grew up. He is the national president of Omuma Progressive Association, a non-profit organization that caters to the needs of immigrants from Omuma, Oru East in Imo State of Nigeria.
He said the organization is involved in building a hospital for the residents in his native village and he is one of the major sponsors of the hospital project.
"Who I am today must have been influenced by my early exposure to a strong father, an educator and teacher that directed the affairs of my early life," Nwamba said. "As the first son and second of seven children of my parents, there was high expectations and pressure to succeed and excel educationally.
"My personal, educational and professional experiences since my relocation to the Detroit metro area of United States also helped to form my philosophy about transforming my students and the importance
of education to them."
His wife is a registered nurse, and his children are pursuing various professional degrees at the University of Michigan.
He said there is nothing different about his teaching style except him and his humble personality, but is quick to add, "I use my extensive teaching and scientific research experiences along with my personal and life philosophy to guide, help and transform my students
into microbiologically informed and skilled individuals. I try to understand my students, the reason they are here, their prior academic and personal experience, their goals, expectations and purpose in my class from the first day of class and all through the entire semester.
"I guess, this helps me to connect with them mentally and facilitates my drawing their interest into the subject of microbiology, thereby channeling and pointing out to them the real value or benefits of taking and passing such a class with a high grade.
"At the end, they appreciate the benefit of my pushing them and teaching them to such high standards and expectations
academically and personally. They become and feel transformed at the end of the semester which is why we are here and what the WCCCD faculties are here to achieve with each student."
(David C. Butty is executive dean for International
Programs/Media Specialist at Wayne County Community College
District. His column appears monthly in the Michigan Citizen.)