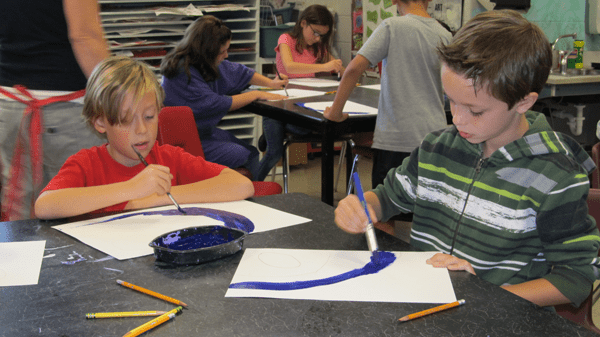 Photo by Sue Suchyta
Grogan Elementary fourth-graders Gage Vaananen (left), 9, of Southgate and Ronnie Maggard, 9, of Lincoln Park work on an art project using graduated tints of indigo paint during an Oct. 11 art class with teacher Tina Doepker.
By SUE SUCHYTA
Times-Herald Newspapers
SOUTHGATE – By creating a supportive learning environment and featuring student art securely online, Grogan Elementary art teacher Tina Doepker builds self-esteem and helps children discover their inner artist.
She also encourages students to try new things and move beyond their comfort zone.
Art encourages independent thinking, Doepker said, and the importance adults place on art helps form children's opinions of its value as well.
"So just showing them that we are all on board with it — we all think art is important — too, means a lot to them," Doepker said. "We are not just in here to play."
She likes working with students as they progress from kindergarten through fifth grade. She said younger students show less inhibition about their abilities, and as children get older, they become more critical of their own efforts.
"The kindergarteners have way less fear," Doepker said. "They are happy. They are excited. I do see a trend – it is just natural, it is a part of development – that as we get older we are looking around and we are starting to feel that we are not as good. I teach my kids when they are young that the No. 1 rule is to try your best. As long as you are putting in your best effort you might come up with something that you never thought you could."
She said her students do not use negative statements like, "I can't do it," "I don't want to do it" or "This isn't good."
She also teaches students to respect others and their work.
"They are all very aware that the person sitting next to you might not be great at doing a detail drawing, but they might be the best color mixer in the school," Doepker said. "We all have different strengths and I try to reinforce that with each lesson."
She said she also conducts positive peer art critiques after cleanup at the end of each class period when time permits, and students take turns giving compliments in specific ways, like line work or shading, that relate to an art project.
In addition to creating a supportive learning environment, Doepker boosts student self-esteem and confidence by displaying their art securely online through the Artsonia website for viewing by family and select friends.
Artsonia, www.artsonia.com, is a secure online student art gallery that preserves each student's art images and allows family and friends to view their work.
"A lot of their work is huge," Doepker said. "By the time they get it home, it's not what it originally was, and it is a way to catalog and keep it."
Doepker started posting digital images of student art online five years ago as a way of communicating with parents, who can choose to receive notifications electronically when new art images are loaded to Artsonia.
She said Artsonia allows parents to share images of their children's art with relatives across the country via email and social media. A code limits access to postings, which prevents unwanted visitors and comments.
"Parents are very proud and linking their child's portfolio so that all of their friends and family are then seeing it and commenting," Doepker said.
She said students receive comments from their "fan clubs," who also receive an electronic notice when Doepker uploads a new digital image.
Students can leave artist statements on their work as well, Doepker said.
She said last year, Grogan was the most active Artsonia participant in Michigan. Teacher and family support, she said, are a key component.
Art portfolios follows children throughout their schooling. Doepker said while Davidson Middle School staff scheduling has challenged their ability to upload images, an art teacher at Southgate Anderson High School uses Artsonia.
Doepker said parents have used Artsonia online images to order them featured on different products. Some compile art images into a book, and others place them on mugs, T-shirts and even onto fabric squares suitable for quilting.
Doepker's students enjoy the positive feedback they receive from artwork featured on Artsonia.
Angel Gilmer, 9, of Southgate said she uses Arsonia to share her art with an aunt.
Seeing images of her art on Artsonia is something Alli Clark, 9, of Lincoln Park likes. She said her online art has gotten positive feedback from her parents and others.
Megan Lee, 9, of Lincoln Park said she also has received positive feedback from family members about her online gallery art images.
Brenden Ballantyne, 9, of Southgate said he likes that his parents can see his art images online, especially if they do not get to see the original art displayed in the school hallway.
Alex Moon, 8, of Southgate, said the images on Artsonia have impressed upon his parents that he is "good in art."
Samantha McCuaig, 9, of Lincoln Park, said she thinks it is great that her mother gets to see her art images on the online gallery.
Principal Rob Wolsek said Artsonia recently recognized Doepker as one of the top 10 participating art teachers in the state of Michigan.
He said programs like Doepker's are so encompassing, they expose the entire student body to art, and they develop an affinity and love for it.
"To get to her room, you have to walk through the hallways that are decorated with student work, and the quality of this work is undeniable," Wolsek said. "Whether we are doing an in-house show or a district-wide show or we are being featured at a local bank or credit union, it is unbelievable. And then you throw the Artsonia on it, and it has created an environment of 'I can' at this school when it comes to art creation and creativity, and so we embrace it."
Doepker, who has been at Grogan for 15 years, said some of her earliest students who have gone on to college have continued with the arts.
"It's always fun to see that they have kept growing with it," Doepker said, "and that they've kept that thinking that they can achieve and do well with art."