Saoirse Ronan in "Byzantium"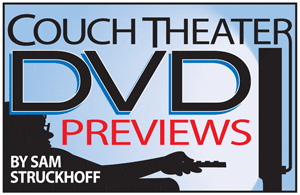 PICKS OF THE WEEK
"Monsters University" (G) — Before they were professional monsters, Mike (the green, one-eyed guy voiced by Billy Crystal) and Sully (the furry one voiced by John Goodman) were college students with barely a clue. Sully comes from a long line of elite scarers, so he expects to float to the top in his education. Mike puts meticulous effort into his studies, but there's a lot he can't get from books. Of course, the duo must also join an offbeat fraternity of misfit monsters.
This isn't PIXAR's finest, but it shows they still know how to lay on the whimsy and wonder. The visual gags, the goofiness of the monster world — it's enough to wow kids, while still having funny details to reward attentive adults.
"Byzantium" (R) — Eleanor (Saoirse Ronan) is a teenage girl who is especially self-posessed and even a little detached. It all goes back to her relationship with her mother (Gemma Arterton) and how the two of them are vampires, going on more than 200 years old. Before you lump this one in with the "Twilight" disciples, know that this is a different shade of vampire movie — more along the lines of the creepy and cerebral "Interview with a Vampire" and "Let the Right One In." The heart of the film is in the relationship Eleanor strikes up with a sickly, awkward, mortal boy named Noel (Daniel Mays).
"Free Samples" (R) — Inside an ice-cream truck offering free samples, there sits Jillian (Jess Weixler), a bitter, hungover law-school dropout who can't scoop ice cream without expressing her contempt for humanity. While she is a sourpuss, it's hard to blame her when so many of her customers are creepy and/or pathetic. Jillian agrees to take over the ice-cream truck for a day as a reluctant favor for a friend, and winds up learning a few important lessons about herself and her shallow, directionless life.
DOG OF THE WEEK
"R.I.P.D." (PG-13) — Nick (Ryan Reynolds) is a sharp young detective who meets his end when his partner (Kevin Bacon) kills him. Nick's soul is pulled into the sky, where the "Rest In Peace Department" informs Nick about his new career: He's part of a supernatural police force that hunts down the evil dead who refuse to move on to the afterlife. Nick is partnered with Roy (Jeff Bridges), a gravel-voiced lawman who joined the R.I.P.D in 19th century.
The above paragraph was difficult to write. "R.I.P.D." is just "Men In Black" with a bit of "Ghostbusters" minus any sense of fun. It's hard to go beyond this description, since it's all you can think after the first 20 minutes.
TV RELEASES
"ESPN Book of Manning"
"Yo Gabba Gabba: Yo Gabba Gabba Christmas"
"Damages: The Complete Series"
"Agatha Christie's Poirot: Series 9"
"Degrassi: Season 12"
"Family Tree: The Complete First Season"
(c) 2013 King Features Synd., Inc.