Lynn Herring stars as "Lucy" on "General Hospital."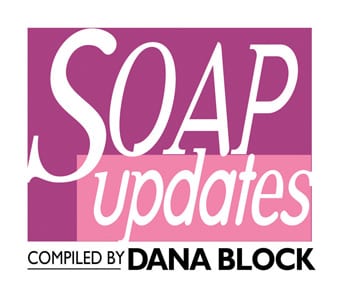 THE BOLD AND THE BEAUTIFUL
Maya was devastated when she heard that Rick and Caroline were engaged. Brooke wanted to keep a low profile with Bill. Hope refused to wear Liam's engagement ring until she was certain that he was committed to her. Later, Liam drowned his sorrows with Oliver at the bar. Bill was furious with the restrictions that Katie was putting on him during visits with their son. Liam confronted Quinn about sending Hope the anonymous video. Brooke felt that her recent actions were responsible for the deterioration of the Logan family. Hope and Wyatt enjoyed each other's company while entertaining clients at the Bikini Bar. Wait to See: Katie has a frightening premonition.
DAYS OF OUR LIVES
Nick was surprised by Gabi's interest in Cameron. Eric made a shocking accusation about Kristen. JJ flaunted his drug stash in front of his mother. Theresa made a play for Daniel. Kristen received her test results from the fertility specialist. Nicole was devastated by Eric's confession. Someone's life was in danger while JJ was high on drugs. Kayla had some surprising news about Chad's recovery. Lucas refused to allow his daughter to live at the DiMera mansion. When JJ overdosed, Theresa turned to someone unexpected for help. Chad came clean with Abigail. Will was reluctant to accept his exciting job offer in California. Wait to See: EJ blackmails Lucas.
GENERAL HOSPITAL
Anna and Robert continued their search for Robin. The custody battle for baby Connie grew more and more intense. Anna and Robert found themselves locked inside the Cassadine Island lab. Mac tried to prepare Maxie for how difficult her custody battle would be. Heather overheard Franco taking credit for her artwork. Lucy assisted in Scott's campaign run for DA. Kiki signed her annulment papers to Morgan. Alexis asked Lucy if she knew any of Victor's mistresses. Derek made it clear to Ava that he was going to have Morgan taken out. A stunned Scott ran into Heather. Morgan felt that Sonny preferred Michael over him as a son. Felix wondered if Britt was pretending to be Robin on the phone to Patrick. Wait to See: The hospital Halloween party is full of surprises.
THE YOUNG AND THE RESTLESS
Nick turned down Avery's suggestion that they try to be friends. Paul worked feverishly to find out who was driving the SUV that hit and killed little Delia. Meanwhile, Adam received a phone call that an organ donor was found for his son. Billy was distraught over losing his daughter. Avery was shocked to learn that Nikki had another male heir. Sharon encouraged Dylan to fight for the woman he loves. Chloe continued to blame Billy for the accident. Cane urged Lily not to be so overprotective of their twins. Michael faced a judge for Carmine's murder. Adam tore up the stock that Victor gave him to give to Connor. A reward was offered to find the drive of the SUV. Wait to See: Ashley returns home to help support Billy.
© 2013 King Features Synd., Inc.