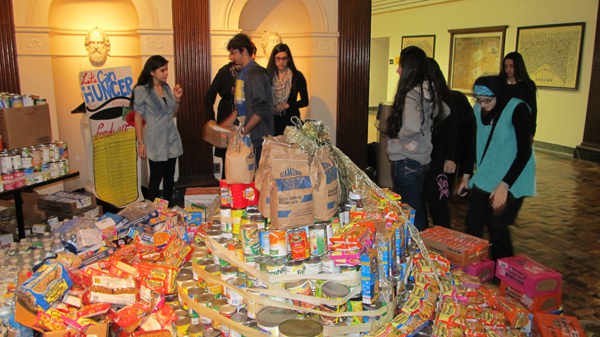 Photo by Sue Suchyta
Dearborn Fordson High School seniors Donna Baydoun (left), 17, and Zeinab Berry (right), 17, help pack up non-perishable food Nov. 25 for delivery to the Detroit Rescue Mission. Students collected over 14,000 non-perishable food items during the past month both at school and in the surrounding neighborhoods as part of their Let's Can Hunger food drive.
By SUE SUCHYTA
Times-Herald Newspapers
DEARBORN – By collecting more than 14,000 non-perishable food items, Fordson High School students may have broken a school record with their Let's Can Hunger food drive for the Detroit Rescue Mission.
The mission, 150 Stimson in Detroit, helps disadvantaged, abused and homeless people in Detroit with food, shelter and substance abuse treatment with a spiritual emphasis.
Students and staff credit classroom competitions, in-school promotions and organized neighborhood collections with the success of the month-long November drive.
Senior Zeinab Berry, 17, student chairwoman for the drive and a member of the student government executive board overseeing the collection effort, said students canvassed nearby neighborhoods Nov. 9, 16 and 23, One Saturday they canvassed near Fordson, on another near Unis Middle and Lowrey Elementary and Middle schools, and on a final Saturday near Woodworth Middle School and in Springwells Park, collecting donations from residents previously notified of the drive by fliers left at homes.
While collecting non-perishable food donations door-to-door, senior Ali Jomaa, 17, said he was surprised by the number of people who contributed, and by how much they cared.
The students also held "a can a kid" day, setting aside one day to collect a can of food or a dollar from participating students at Fordson, which has an enrollment of about 2,300 students. Volunteer students worked at each entrance, Berry said, collecting 524 cans and almost $500, which she said they used to buy four cans of food for each dollar donation through local grocers.
Government and sociology teacher Fatmeh Reda, a first-year faculty chair for the food drive, and a 2005 Fordson graduate, said second-hour classrooms competed to donate the most non-perishable food items, with the class donating the most earning a $300 classroom makeover, and the second-place class receiving breakfast for the entire class.
Reda said the students set an ambitious goal to collect 10,000 non-perishable food items, and exceeded the goal by more than 4,000 items.
She said the students running the food drive used emotion to inspire participation among their fellow students.
"They understand that a lot of things are taken for granted," Reda said. "We wanted kids to realize that we need to give back to our community, especially to the people that are less fortunate, especially for the holiday season. They are all getting ready with their families – they wanted to provide the same thing (for others)."
Reda said several seniors are conducting a clothing drive at the same time as a service project through the National Honor Society.
"I am pleasantly surprised by the number of kids that brought in entire bags full of clothing," Reda said, adding that while this year the food drive over-shadowed it, next year she will have more students focus on the used clothing drive.
Throughout the drive, student generosity and response has been astonishing, senior Samar Hojaij, 17, said.
"It's like a very warm feeling," Hojaij said, "because everyone is taking out of their time and out of their money to help the needy and less fortunate and it's a very good feeling."
Senior Bilal Mroue, 17, said the generous response of the community during the month-long drive surprised him.
"We're all a giving community," Mroue said. "And we all like to help out in any way possible."
Jomaa said the students working together felt like one big family and he had fun working on the drive. He said he knows they have a lot of work to do packing up all of the donated items, but he is sorry to see the team's shared mission end.
Language arts teacher and previous faculty advisor Amanda Durfee said the seniors who spearheaded the non-perishable food drive are exceptional as a class, and estimates they collected as many food donations as the three previous years combined.
Durfee said she grew up in a low-income family, and never took for granted or complained about the food she was served. She said some of her students are in the same position she was in growing up, yet they have still been very generous with donations during the food drive.
"These kids are often giving out of their homes where they suffer the same fate that I did," Durfee said. "Or they are struggling to get food every day, and yet they come in and they give. If it is not food, it is their time.
"I have never met a group of kids that work as hard as these kids do, for zero acclaim," Durfee said. "They do it because they want to. There's nothing like this in any other place that I have been."
"We are very proud of whom we are as a school," Reda said, "and this food drive is really going to show just how much faith and pride we have in us being Tractors."
Principal Youseff Mosallam said the students worked very hard on the campaign.
"They totally understand that they have to give back to the community," Mosallam said. "This is a great way for them to do it."
He said the senior class has a lot of heart, and their collection efforts seemed to snowball each week.
"The kids really wanted to take it to the next level, and they did," Mosallam said. "We have some good leadership, and the teachers really supported them and helped them out."
He said the students, who have learned to set and achieve goals, have been involved in many community service projects in Dearborn and across Wayne County.
"This is a great group of kids," Mosallam said, "with great morals and ethics. In today's setting, too many people like to focus on the negatives. What people have to remember is that our high school students across the state nine out of 10 times are doing what is right. This is an example of what our kids can do as long as we have the expectations for them."