Abdallah El Akal in "Zaytoun"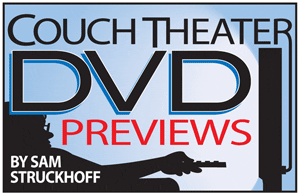 PICKS OF THE WEEK
"Afternoon Delight" (R) — Rachel (Kathryn Hahn) is an affluent stay-at-home mom who feels she's not living her life correctly. To rekindle the passion in her marriage (the hubby is Josh Radnor of TV's "How I Met Your Mother"), they have a couple's outing to a local strip club, where Rachel encounters McKenna (Juno Temple) — an earnest and naive 19-year-old exotic dancer. Rachel becomes fixated on the idea of saving the stripper and adopts her as a live-in nanny.
While the story limps along at times, every scene is full of sincerity and humor. This is Hahn's first leading role — she's usually playing bit parts in raunchier comedies — and she shows that her unbridled comedic energy has a warm heart at its core.
"Cal" (1984) (R) — Cal (John Lynch) is a sullen young man — one of only a few Catholics in a Protestant neighborhood in 1980s Ireland. He hates his job working alongside his father at the slaughterhouse, but losing his job is even worse — he's recruited by his friends in the IRA to be a getaway driver for cold-blooded murder. Cal finds himself falling for a demure older woman who works at the library (Helen Mirren). Guilt and love collide when Cal realizes that she is the widow of an IRA victim.
While the opening scene may shock you, the majority of the film is a quiet dramatic study. Mirren delivers an A-plus performance as a woman who truly grows through the film, while Lynch pulls you into Cal's struggle with force.
"Zaytoun" (R) — Yoni (Stephen Dorff) is an Israeli pilot who crashes in Lebanon in the early 1980s — a time of heightened street violence and international tension. His only ally is Fahed (Abdallah El Akal), a young Palestinian boy who wants to escape the streets of Beirut and return to his dear homeland. While the two are at odds from the start, their mutual interest in returning to Israel — for vastly different reasons — unites them and develops a different relationship.
"Fists of Legend" (1973) (R) — Don't dismiss this South Korean brawlfest as another choppy, spit-soaked action flick. The director went out of his way to cast dramatic actors and then teach them martial arts. The story follows a reality television show where former prizefighters get back into the ring to refurbish their reputations and settle old scores. The fights are short, visceral and infinitely more plausible than the genre standard. The main character's quest for understanding extends beyond the ring, all the way back to his misremembered teen years.
TV RELEASES
"Game of Thrones: The Complete Third Season"
"Nurse Jackie: Season 5"
"American Experience: 1964"
"The Six Million Dollar Man: Season 5"
"Battlestar Galactica: The Complete Epic Series"
© 2014 King Features Synd., Inc.