Photo by Bob Oliver
Dearborn Mayor John O'Reilly Jr. (left) introduces Debbie Dingell to a crowd inside Panera Bread Restaurant Friday morning. Dingell publicly announced she is running for the 12th Congressional District seat being vacated by her husband, John Dingell (below). John Dingell, the longest-serving member of congress in U.S. history, announced last week that he would not be seeking re-election.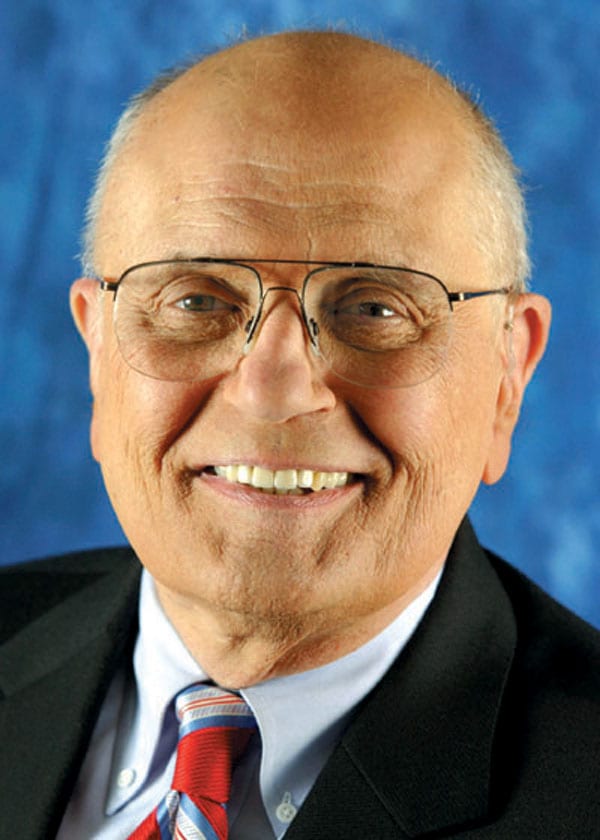 By BOB OLIVER
Times-Herald Newspapers
DEARBORN — It turns out that area voters will not be casting their first ballot in 81 years without the name Dingell on it after all.
Debbie Dingell, 60, wife of outgoing U.S. Rep. John Dingell (D-Dearborn), announced Friday she we be running for his 12th District House seat.
She made the announcement at Panera Bread Restaurant, 22208 Michigan Ave.
"Yes, I am a candidate," Dingell said. "That's the answer to the question I've been getting a lot over the last couple of days, and if you know me, you know I believe in being direct."
Dingell currently serves as chairwoman of the Wayne State University Board of Governors and is also an experienced Democratic strategist. She is also a former executive with General Motors.
"I've spent my entire career trying to make a difference outside of government, and now I want to bring that same commitment and experience to Congress," Dingell said. "So I'm beginning one giant job interview with the people of the 12th District."
She said she was proud of her husband's career and his commitment to serving his constituents and nation and that she respected his wish to retire from Congress.
"Even if I weren't married to him, I would have tried to talk John into running for another term," Dingell said. "With Senator (Carl) Levin retiring, I believe we need the wisdom, experience and dedication John has brought to his job serving southeast Michigan every day for the last 58 years."
Levin (D-Mich.) announced last spring that he would not seek re-election in November 2014. He has been in the Senate since 1979.
Dingell also said she wanted it to be clear that she was not running to replace her husband.
"I think he's irreplaceable," Dingell said. "I wouldn't run if I didn't think I could do a good job for my friends and neighbors and for the men and women of labor that I've worked side-by-side to fight for the jobs and businesses of Michigan."
Dingell has until April 22 to submit 1,000 petition signatures from voters in the district to be placed on the Aug. 5 primary ballot. If she wins the primary, the general election is Nov. 4.
John Dingell, the longest-serving member of Congress in U.S. history, announced last week that he would not be seeking re-election in the fall for the first time since 1957.
In his speech announcing his forthcoming retirement, Dingell called his wife his "dear friend and wise advisor, whose wisdom, goodness, and caring have made it possible to serve with compassion and skill."
He added that she gave him strength and comfort in his service and when asked if he thought she was going to run to succeed him, Dingell replied that he didn't know but that if she did she would have his vote because she would make a great member of Congress.
"She has been tireless, devoted, and worked just as hard, if not harder, for this district throughout the years," Dingell said.
At his announcement Monday at the Southern Wayne County Regional Chamber of Commerce in Southgate, John Dingell said that after a lot of consideration, he felt it was the right time to step away.
"Around this time every two years, my wife Deborah and I confer on the question of whether I will seek re-election," Dingell said, "I put myself to the test and have always known that when the time came that if I felt I could not live up to my own personal standard for a member of Congress, it would be time to step aside for someone else to represent this district."
Dingell said he was proud of his record as a congressman and said, "There is no greater privilege than a life spent in service."
He also thanked all of his supporters in the district for placing their faith in him.
"I have done my best for the people who live here: my neighbors, my friends, those who supported me and those who didn't," Dingell said. "The fabric of Michigan is the fabric of my life and it has never frayed."
He said though he is announcing his retirement now, he is not going anywhere before the term ends.
"I have 10 months more in Congress and I'm not going to waste a minute," Dingell said. "There's still a lot to be done and a lot I want to do."
He closed his remarks with an address to his home state.
"I am not leaving Congress," Dingell said. "I am coming home to Michigan."
Dingell took office on Dec. 13, 1555, following a special election for the seat representing the 15th District of Michigan. The seat had formerly been held by Dingell's father, John D. Dingell Sr., who represented the district from 1933 until his death in 1955.
Since then he has been re-elected 29 times despite the re-drawing of district lines several times over the years. Dingell was last victorious in the November 2012 elections where he won the seat representing Michigan's 12th District.
On June 7, 2013, he became the longest-serving member of Congress in U.S. history. At 57 years, five months and 26 days, he passed the previous mark set by Sen. Robert Byrd (D-W. Va.). He already was the longest-serving member of the House of Representatives, a feat he attained in February 2009.
In more than 57 years in the Congress, all of them in the House, Dingell has gone from the "Baby of the House" between 1955 and 59 to "Dean of the House," which he has been since 1995. He has been involved with landmark legislation such as the Civil Rights Act of 1964 and the National Environmental Policy Act of 1970 as well as working to protect Medicare and Social Security.
He currently sits on all six subcommittees of the House Energy and Commerce Committee and votes in each of them. He was also chairman of that committee from 1981 to 1995 and again from 2007 to 2009.
His announced retirement was met with praise and good wishes from several colleagues, including President Barack Obama, who said not only the people of Michigan, but people from all over the United States are better off due to the efforts of Dingell as a congressman.
Obama said Dingell began every session of Congress by introducing health care legislation, an effort that eventually helped create the Affordable Care Act.
Obama called Dingell one of the most influential legislators of all time.
"John risked his seat to support the Civil Rights Act of 1964, fought to pass Medicare in 1965, and penned legislation like the Clean Air Act, the Safe Drinking Water Act, and the Endangered Species Act that have kept millions of Americans healthy and preserved our natural beauty for future generations," Obama said.
Obama is the 11th president that Dingell has worked with.
Vice President Joe Biden said Dingell had a great deal of respect for his fellow congressmen and constituents, something that helped him get a lot accomplished in the House.
"Through 59 years of public service, John fought for what he believed in, and got things done through relationships and his deep respect for others," Biden said. "He has been relentless in his efforts to secure for his constituents the right to live a decent middle-class life. There's never been a colleague I've admired more."
Levin called Dingell a "supreme fighter for working men and women" and that his record of accomplishment is second to none.
"I have known no better person in government during my 35 years in Congress," Levin said. "His rare combination of legislative skill, steely determination, hard work and generosity of spirit have helped him play a vital role in almost every major congressional initiative over the last half century."
(Bob Oliver can be reached at [email protected])