Arianne Zucker stars as "Nicole" on "Days of Our Lives."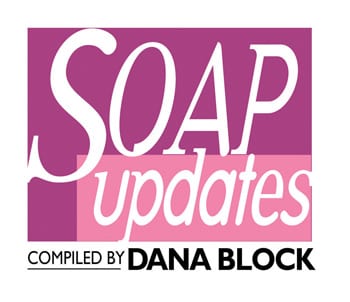 THE BOLD AND THE BEAUTIFUL
Quinn had some words with Aly, telling her to stay away from Wyatt. Donna was shocked when Brooke confided in her about Katie and Ridge's newfound love. Liam accused Wyatt and Quinn of being deceptive. Brooke vowed to win back Ridge. Pam revealed to Charlie that she wasn't the one who spilled the beans about the diamond heist. Aly was stunned when Hope told her not to call the police because she already knew about Wyatt's role in the theft. Aly and Quinn's confrontation on the office bridge got physical. Ridge and Katie discussed their future together. Eric received some upsetting information during an important meeting. Rick and Caroline heated up the steam room. Wait to See: Eric takes a firm stand with Aly.
DAYS OF OUR LIVES
Marlena demanded answers from Dr. Chyka. Stefano and Nicole had an ugly confrontation. Abigail realized she didn't trust EJ after all. JJ was mortified when his past came back to haunt him. Eric made a slip to Jennifer about Daniel's lie. Nicole ripped into Marlena for meddling in her relationship with Eric. Hope began to see Aiden in a new light. While trying to evade Sami, EJ wound up in a precarious position. Daniel confronted Nicole when he found evidence of what she'd been keeping from Eric. Jennifer received a malicious piece of mail. Wait to See: Kate agrees to have dinner with Stefano.
GENERAL HOSPITAL
Sonny comforted Michael during AJ's hospital stay. Julian issued a stern warning to Carlos. Britt asked her mother to keep her and Nikolas's engagement a secret. Silas told Kiki the details about what happened to him in New York, unaware that someone was eavesdropping on their conversation. Ric had an offer for Liz that put Nikolas on edge. In order to figure out what really happened the night of AJ's shooting, the stymied Anna and Dante continued to question more people. Emma asked Patrick a difficult question regarding Robin. Monica enlisted Patrick's help in an effort to save AJ. Spencer had a plan to woo Emma. Kiki was puzzled by Luke's odd behavior. Silas got an unexpected visitor from his past. Wait to See: Alexis tries to figure out the connection between Ric and Julian.
THE YOUNG AND THE RESTLESS
Billy warned Stitch to stay away from Victoria. Nick and Sharon found it difficult to suppress their attraction for each other. Chloe received court-ordered outpatient therapy instead of jail time for taking Connor. Victor reminded Cassie's imposter that he was paying her a lot of money to get Sharon to reveal her secret. Chelsea accused Victor of hoping that Adam was dead. Victor invited Kelly out to lunch. Stitch told Billy to fix his marriage. Leslie asked Neil if they could still be friends. Michael warned Kevin that Chloe didn't share his feelings for her. Christine wondered if Nikki had designs on Paul. Victor was furious when the Cassie imposter showed up at his office. Wait to See: Billy confronts Jack.
© 2014 King Features Synd., Inc.