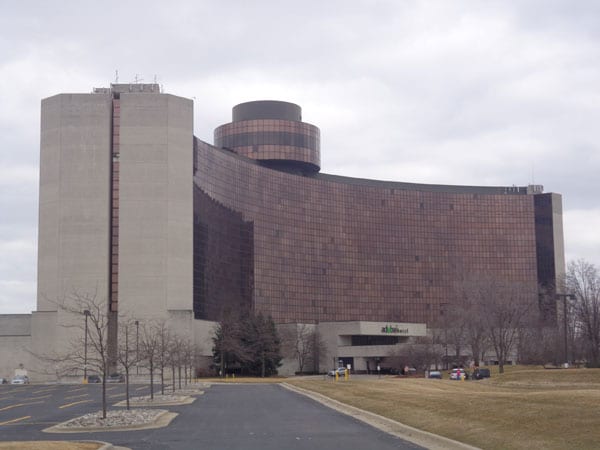 Photo by Bob Oliver
A management contract for the Adoba Hotel, 600 Town Center Drive, is the focus of a lawsuit between Royal Realties, which owns the building, and Atmosphere Hospitality Management Services Inc., which has been managing the business since late 2012. The dispute leaves the future of the hotel in question.
By BOB OLIVER
Times-Herald Newspapers
DEARBORN — The future for the Adoba Hotel, 600 Town Center Drive, is uncertain due to ongoing litigation between the owners of the building and the company currently running the facility.
On Jan. 22, Royal Realities LLC, the group that owns the hotel, presented Atmosphere Hospitality Management Services Inc., the group that has been managing it since late 2012, with a notice that it was terminating the management contract between the parties.
The following day, Atmosphere filed a lawsuit in the U.S. District Court for the Eastern District of Michigan against the hotel's owners for breach of contract.
U.S. District Court Judge David Lawson heard arguments from both parties March 17 and is deliberating on the case. There is no timetable for his decision.
According to published reports, issues being negotiated between the parties include a block of the contract termination by Atmosphere and several claims of contract violations by both parties, including an accusation that Royal immediately violated the contract by providing only $375,000 of the agreed upon $700,000 to provide for initial operations once Atmosphere took over.
Royal has accused Atmosphere of issuing checks without its consent, creating new signature cards that block Royal's access to the operational accounts of the hotel and failing to provide financial reports for the business.
The hotel opened as a Hyatt Regency in 1976 with 772 rooms and 62,000 square feet of meeting space across 14 stories.
It remained a Hyatt after the building was sold in 2007 to Ashford Hospitality Trust, which paid $40 million for the hotel but defaulted two years later.
Royal Realties bought it in 2011 for $10 million and it remained a Hyatt until Oct. 31, 2012, when the owners and the franchise couldn't come to terms on a new contract.
Atmosphere took over management the following month with plans to acquire it by the end of 2012 for $25 million.
(Bob Oliver can be reached at [email protected].)