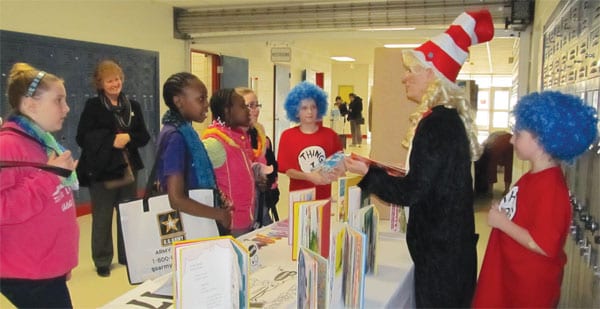 Photo by Sue Suchyta
Sisters Kylie Scarpace (sixth from left), 10, and Chloe Scarpace (right), 7, of Canton Township, play Thing 1 and Thing 2, respectively, with the Cat in the Hat, played by their mother and Taylor Holland Elementary School first-grade teacher Stacy Scarpace (seventh from left) at a district-wide Literacy Luau held March 25 at Taylor Kennedy High School. Kylie, a fifth-grader, and Chloe, a second-grader, also are students at Holland.
By SUE SUCHYTA
Times-Herald Newspapers
TAYLOR – Whether fishing for or getting hooked on books, families set sail for fun and entertainment at Taylor School District's Literacy and Language Luau March 25 at Kennedy High School.
Choirs and bands entertained in the cafeteria, which each school in the district offered themed activities at tables in the east and north hallways.
Vendors, non-profit groups and government agencies offered information and giveaways in the west and south halls, while a photo booth, balloon twisting, face painting, games and crafts drew big crowds to the gym.
Early in the evening, the cafeteria served bagged suppers, and parents had a chance to learn more about district-wide Title I programs.
Title I of the Elementary and Secondary Education Act provides financial assistance to local educational agencies and schools with high numbers or high percentages of children from low-income families to help ensure that all children meet challenging state academic standards. 
For students and their families, it was a chance to have fun while celebrating the school district literacy programs.
Kyler Hicks, 15, an eighth-grader at West Middle School, sang with his choir at the event to an appreciative audience. He likes that the event has activities for all ages.
"It's very family oriented," Hicks said. "A lot of people like to be in family activities and Taylor doesn't have a whole lot of those."
Storm Pauly, 12, a seventh-grader at West who likes reading fantasy books, said the Literacy Luau was a "really cool event." She said she made crafts, played games and took pictures.
Maggie Carpenter, 14, a freshman at Kennedy, worked at the Junior Reserve Officers Training Corps table during the event, explaining the program to younger students. JROTC is a high school program offered as an elective or substitute for physical education.
Students collected souvenir trinkets while working their way through the table displays.
Sherry Hutchison, a teacher on special assignment in the resource room at McDowell Elementary School, said she was nearly out of the fish souvenirs she handed out to hundreds of young students interested in "fishing for a good book" at a bright display with fish-themed storybooks.
She also handed out "magic reading fingers," a plastic claw-like appendage to let young readers point to and follow along with the words they read.
As Dylan Radyko, 9, a fourth-grader at Kinyon Elementary School, added the popular fish souvenirs to his bag of treasures, he said he said he likes to read the Jeff Kinney "Diary of a Wimpy Kid" series when he "fishes" for a book to read.
He said he liked everything at the event, especially the ring and ball tossing carnival-type games.
Susan Oswald, a literacy specialist at Myers Elementary School, did not have carnival games at her station, but she said the origami craft those working at the Meyers table offered was popular with attendees.
She said they helped the children with the craft and had books showing the origami steps, plus videos. Most students, she said, preferred learning origami from a book because they did not have to pause and rewind, and book directions let them learn and create origami designs at their own pace.
Oswald said the event provided the children with plenty of excitement.
"There is lots of stuff here for them to see and to do," Oswald said. "We encourage them to try something new today."
As a kindergarten teacher at Clarence Randall Elementary, Lindsey Barnard said the students are learning new things daily, especially as they learn to read at least 18 words before first grade.
At the Randall School display where she worked, she explained the Daily Five, literary tasks she uses with her students: read to self, read to someone else, work on writing, listen to reading and do word work.
The Daily Five is designed to help students develop daily habits of reading, writing and working with peers, which leads to a lifetime of independent literacy skills.
"It appeals to all children's learning needs, to the different ways children learn," Barnard said. "With the 'word work' they can do hands-on activities. 'Listen to reading' is for auditory learners – they can listen to a book or use computer programs."
She said the kindergarteners take home activities to work on with their parents. She said at school, children read to a stuffed animal, or with a second-grade reading buddy.
"They are just now starting to get to the point where they are like, 'Oh, can we read to our buddies now?'" Barnard said. "They enjoy that."
Her team kindergarten teacher, Pam German, said their goal is to get children to love reading and books at an early age.
Mary Francis, a reading enrichment teacher at Taylor Sixth Grade Academy, helped young readers create their own bookmarks at her table. She said she had fun seeing the individual designs the children created.
She said instilling the reading habit in children early creates lifelong readers.
"To turn (reading) into a habit, be a good role model for it, and set aside time for it so that everyone is enjoying it together," Francis said. "And (have) a print rich environment, (with) a variety of reading, so it's not work."