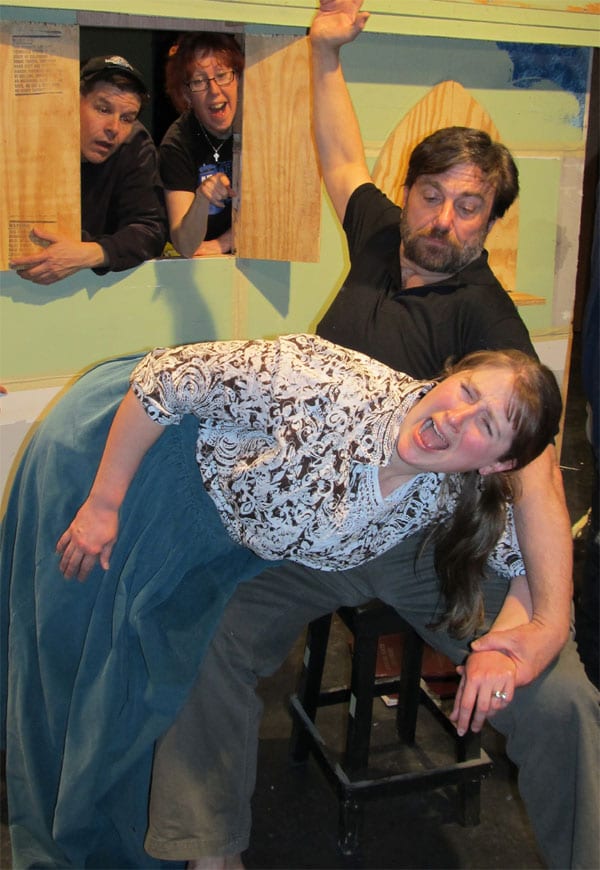 Photo by Sue Suchyta
Brett Reynolds (second from right) of Pontiac as Fred Graham and Petruchio rehearses with Christine Kapusky (right) of Canton Township as Lilli Vanessi and Kate while ensemble members Chris Boudreau (left) and Diane Cliff, both of Dearborn, watch from the set window in the Cole Porter musical "Kiss Me Kate" at the Players Guild of Dearborn. The show opens May 2 for a four-weekend run. For tickets, call 313-561-TKTS or go to www.playersguildofdearborn.org.

By SUE SUCHYTA
The Cole Porter musical "Kiss Me Kate" opens a four-weekend run May 2 at the Players Guild of Dearborn, 21730 Madison in Dearborn.
Performances are May 2 to 4, 9 to 11, 16 to 18 and 23 to 25, with show times at 8 p.m. Friday and Saturday and 2:30 p.m. Sunday.
For tickets or more information, call 313-561-TKTS or go to www.playersguildofdearborn.org.
"Kiss Me Kate" features Valerie Haas of Inkster as director and Paul Abbott of Livonia as musical director. Dearborn residents Jeff Bartos and Chris Boudreau co-produce the show, with Bartos also assistant directing.
The musical is a play within a play. It tells the tale of a divorced husband and wife, Fred and Lilli, who reunite to star in a musical version of Shakespeare's "The Taming of the Shrew." Add two debt-collecting gangsters, a case of mistaken identity, and a colorful supporting cast, and the stage is set for entertainment.
Haas said it is the first time Shakespeare is being done on the Guild stage, albeit within the confines of a 1948 Porter musical.
"It is an old-fashioned kind of musical and yet very risqué in its own way with its wink-wink, nudge-nudge moments," Haas said. "It's very sophisticated. It's very witty, and it's got some of the most beautiful songs ever written."
Haas said "Kiss Me Kate" and "Anything Goes" are some of Porter's finest works.
She added that because the musical is about a company putting on a show, the audience sees backstage, including fly rails, lighting instruments and the back of set pieces they normally would not.
"Just seeing the Shakespearean part of it with 1948 costumes and sensibilities is awesome," Haas said.
She said Diane Kaplan of Dearborn and the costume crew are busy creating both the 1948 and the Shakespearean costumes.
"Lots of singing, lots of dancing, lots of bawdy, burlesque kind of things," Haas said. "It's the capper to the season."
Cast member Jeff Lokken said "Kiss Me Kate" is a lot of fun for the cast, and they do a lot of dancing.
"It's kind of got everything, plus it is an old classic show," he said.
Bartos agrees that the music is classical Porter.
"If they don't like Cole Porter, who do they like?" Bartos said. "It's the closing show of a season of (audience) favorites."
Songs from the musical include "Another Op'nin', Another Show," sung by Hattie and the company, "Always True to You in My Fashion," sung by Lois/Bianca, and "Brush Up Your Shakespeare," sung by the gangsters, a comedic piece which Bartos said always brings down the house.
Brett Reynolds of Pontiac said "So in Love," sung by Lilli and later reprised by him as Fred, is one of the most beautiful songs ever written for the theater.
Reynolds added that "Wunderbar," sung by Fred and Lilli, is schmaltzy, but the cast makes fun of it in the show.
"The rest of the score just has great jazzy fun show tunes," Reynolds said. "It's a terrific, classic play being done by a first class group, with sort of a contemporary twist because it is the revival version that's much more lively, much more broad and fun than the original, but respects all that of the original."
The cast also includes Christine Kapusky of Canton Township as Lilli Vanessi and Kate (Katherine), with Brett Reynolds of Pontiac as Fred Graham and Petruchio.
Dearborn residents in the cast include Meg Kisch as Lois Lane and Bianca, James Mayne as Bill Calhoun and Lucentio, Terry Crandall as Harry and Baptista, Phil Walling as stage manager Ralph and Michael Belli as Flynt and Gremio.
Tom Varitek of Dexter and Marc Walentowicz of Garden City play the two gangsters.
Tim Carney of Livonia is Riley and Hortensio, and Mark Byars of Garden City is General Harrison Howell.
Inez Hernandez of Ecorse is Paul, Anne Morgan of Livonia is Hattie and Butch Plague of Canton Township is Pops the stage door man and the Padua priest.
Ensemble members and additional character roles are played by Chris Boudreau, Luke Boudreau, Julie Ballantyne Brown, Diane Cliff, Lexie Kaplan and Maddie Kaplan of Dearborn; Dee Morrison of Canton; Walter Middlebrook of Detroit; Elizabeth Kilpatrick of Grosse Ile Township; Lauren Danke and Jeff Lokken of Livonia; Annette Ripper of Northville and Sara Williams of Redford Township.
Haas said after "Kiss Me Kate" opens, May 5 and 6 auditions for the Guildling summer shows, "Charlotte's Web" for pre-teens, which runs July 31 to Aug. 3, and "Into the Woods Jr.," for teens, which runs July 17 to July 20, will continue the Guild's momentum.
Auditions take place during the third week of May for a workshop production of Shakespeare's "A Midsummer Night's Dream," which runs Aug. 15 to 17 and targets a cast of high school and college age actors.
"You can think of ("Kiss Me Kate") as a precursor," Haas said. "You can think of this as being a preview of Shakespeare, and then the full-length to come in the summer."
DYPAC ANNOUNCES SUMMER PROGRAM
The Downriver Youth Performing Arts Center offers its 15th annual summer arts program for ages 5 to 19 at the historic Trenton Village Theatre.
Courses are 45 minutes long, with four or five classes offered each session. Students may enroll in a single class or a full day of classes.  
DYPAC courses run June 24 to July 31 with a base price of $70 per class, with discounts for families with multiple enrolled children or more than five classes per participant.
There may be material or script fees of $15, depending on the class.
A grand finale performance takes place July 31 and Aug. 1, with an Aug. 2 performance added for the teen class.
For more information, call Debbie Jackson at 734-671-2202 or go to www.dypac.com.
'AUGUST: OSAGE COUNTY' CLOSES HILBERRY SEASON
"August: Osage County," by Tracy Letts, closes Wayne State University's graduate company Hilberry Theatre season.
The Pulitzer Prize-winning play, recently adapted to the screen, runs April 18 to May 10 at the Hilberry, 4743 Cass in Detroit.
Tickets run $10 to $30 and are available by calling 313-577-2972, or online at wsushows.com.
The production contains harsh language and portrays adult and mature themes.
Set in present day, middle class Oklahoma, "August: Osage County" introduces the Weston family, who, though intelligent and sensitive, make each other miserable.
When the patriarch vanishes, the clan gathers to support and attack one another. When his body is found in a lake five days later, his death is ruled a suicide.
Violet, the drug-addicted matriarch, her three daughters, and their families try, unsuccessfully, to work out their problems from the time they arrive, through the funeral and into the next day. The witty, dark comedy explores painful family issues.
Lavinia Hart, head of the Master of Fine Arts acting program at WSU, plays Violet, the matriarch.
James R. Kuhl, a Hilberry graduate, directs.