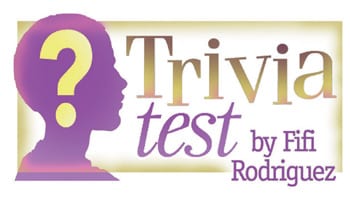 1. SCIENCE: What is another word for molten rock below the Earth's surface?
2. ANIMAL KINGDOM: How many toes does a hippopotamus have?
3. MEASUREMENTS: How many miles are run in a 5K (kilometer) footrace?
4. GEOGRAPHY: Where is the Ionian Sea?
5. GENERAL KNOWLEDGE: How many colleges are housed at Oxford University?
6. ASTROLOGY: What is the symbol of the Gemini sign?
7. LITERATURE: Who wrote the novel "Humboldt's Gift"?
8. MUSIC: In what year did singer Kelly Clarkson win the "American Idol" competition?
9. MOVIES: What Chevy Chase movie featured the tagline "yule crack up"?
10. ENTERTAINERS: What band is Ozzie Osbourne associated with?
Answers
1. Magma
2. Four on each foot
3. 3.1 miles
4. Between southern Italy and Greece
5. 38
6. The twins
7. Saul Bellow
8. 2002
9. "Christmas Vacation"
10. Black Sabbath
© 2014 King Features Synd., Inc.