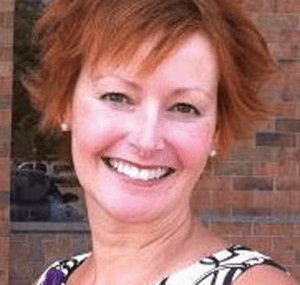 From the President's Desk
Jackie Lovejoy
President, Dearborn Area Chamber of Commerce

Quote of the month that has inspired me:
"Catch on fire with enthusiasm and people will come for miles to watch you burn."
— John Wesley, 1705
I have a friend who knew from fourth grade he would be a brain surgeon. My brother always knew he would have a career in the military. They had enthusiasm early on for their passions which became their careers. I'm at Villanova University attending the U.S. Chamber's Institute of Management as I write this article. I have always loved learning and education; the training and new ideas spark my enthusiasm for my role. I'll share a few of the enthusiastic "fires" that the chamber is lighting this month.
One of our enthusiastic endeavors is our Young Entrepreneurs program. I see the same vision and passion that I saw in my brother and my friend. Forward thinking, trying out new businesses, partnering with business mentors, the students energize and inspire me. They may or may not carry that business to their adulthood, but the initiative and can-do attitude will take them far.
In class today I heard the best piece of advice that I'll share with them this fall: "Mistakes are not bad. We make decisions and choices, we take actions, and only when the outcome is not what we expected then we classify it as a mistake. In reality, of course we'll make mistakes; if we knew the outcome, we would have made different choices."
This is the basis of all learning; go forth and be brave. We are taking applications for our second year of this great program, check out our website or call the chamber for information.
I've mentioned our online learning classes in this space before. I invite everyone in the community to use our website and sharpen your skills. All sorts of training and software tutorials are there for your use, most programs are between $19 and $100. Think of trying one of these courses out to spark your enthusiasm and passion; they can enhance a current hobby or task, or open a new door for you too.
Joe Hinrichs, Ford Motor Co. president of The Americas, spoke for the chamber at our Business Builder Breakfast July 29. Enthusiasm and change are necessary in today's auto industry. On Pinterest I found a quote Hinrichs posted: "It's gonna get harder before it gets easier. But it will get better, you just gotta make it through the hard stuff first." This speaks to keeping our enthusiasm up and remaining fresh and open to carry us through the dips and valleys in daily lives.
Hinrichs spoke on how Ford moved production of the Fusion from Mexico to Flat Rock, and how Ford is changing over its Ford Rouge Plant to produce the new aluminum F-150s. This shows Ford's commitment to efficiency, and that takes enthusiasm to keep the project on task.
Finally, our Farmers Market is still going strong each Friday from 9 a.m. to 2 p.m. through Oct. 17. Come and check out our enthusiasm on display. We have over 50 rotating vendors each week, cooking demos and entertainment. Senior Citizen Day is Aug. 15, and Children's Day Aug. 22. Come and check out the fun in the sun. Let's keep our fingers crossed we haven't had a bad weather Friday yet. Be enthusiastic and join our community events, we would love to have you join us.