Thorsten Kaye stars as "Ridge" on "The Bold and the Beautiful."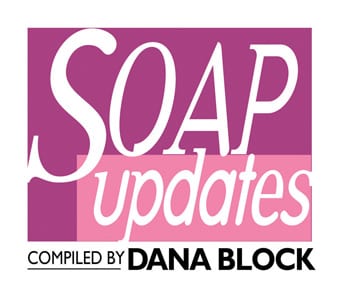 THE BOLD AND THE BEAUTIFUL
Quinn and Deacon discovered an incriminating secret that could assist them in their plan. Ivy asked Aly to help her right a wrong. Ridge voiced his regrets to Katie about getting involved in Brooke's personal life. A celebration was planned to mark a momentous occasion between two families. Armed with useful information, Quinn and Deacon plotted the next step in their scheme to keep Bill and Brooke apart. Ridge agreed to attend the party with Katie as long as she was able to keep his secret. Ivy applied pressure on Liam to tell Hope the truth about what happened between them in Paris. Rick told Maya that his heart belonged to Caroline only. Deacon did what Ridge could not. Wait to See: Quinn gives Wyatt and Hope a special wedding gift.
DAYS OF OUR LIVES
Sami was forced to change tactics with EJ after Will's article was released. Hope uncovered Aiden's lie. Eve surprised Theresa by sending her on a mysterious mission to speak with Paige. Nicole finally got her chance to confront Kristen. Brady struggled with his emotions now that Kristen was back in Salem. Jennifer presented Eve with a one-time deal. Aiden and Hope awkwardly discussed their feelings for each other. Kristen was clearly affected by Eric's testimony at her grand jury hearing. Will and Sonny had a major disagreement about the article. EJ ripped into Sami for once again going after Abigail. Clyde pressured Kate to help him make some new contacts. Kristen managed to pull off a miracle in court. Wait to See: Abigail slaps Sami.
GENERAL HOSPITAL
With Bobbie's help, Carly hid from Franco that Sonny was at her home. Ava and Kiki were overjoyed when the baby kicked, but were soon interrupted when Ava got a disturbing request from Luke. Ned learned something new about Tracy. Jordan and Shawn shared an intimate secret. Sabrina returned to Port Charles and was caught up to speed on the events concerning Rafe. Franco opened up to Nina about where things stood with Carly. Julian continued to cover up the identity of his "boss" from Jordan. Ava decided to invite Kiki and Michael to dinner. Sam and Silas uncovered some new clues involving Rafe. Wait to See: More clues about Levi's past are revealed.
THE YOUNG AND THE RESTLESS
Dylan didn't approve of Avery taking on Austin's case. Nick tried to pressure Helen into giving him answers about her daughter, Mariah. Devon comforted Hilary. Victor gave Summer some money from her trust fund so that she could post Austin's bail. Jack assured Kelly that he was really saying goodbye to Phyllis. Hilary struggled to tell Neil that she was in love with his son. Nick overheard Mariah's mother warning Ian about him. Leslie asked Avery to write a letter to the court saying that she accepted Austin's apology. Lily feared that her father would start drinking again if he lost Hilary. Wait to See: The Winters family receives some unexpected news.
© 2014 King Features Synd., Inc.