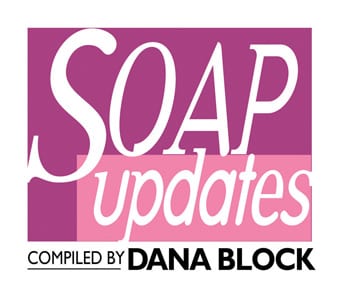 THE BOLD AND
THE BEAUTIFUL
Deacon begged Brooke for an answer to his proposal. Rick vented to Caroline about Ridge's lack of creative output lately. Ivy confided in Aly about her true intentions in helping Liam get over his heartbreak. Caroline assisted Ridge in drawing his fashion designs. Later, Katie let Rick in on Ridge's secret. Ivy hosted an Australian-themed barbecue for her family and friends in California. Quinn made a bold confession to Bill, hoping to woo him as an ally. Hope confided in Wyatt about Liam possibly rebounding so soon with Ivy. Deacon hoped that Brooke would warm up to him if they spent time together with their daughter. Wait to See: Maya is determined to get what she feels is rightfully hers.
DAYS OF OUR LIVES
Kristen made a power move that sent ripples throughout Salem. Marlena was faced with a tough decision. Theresa's high quickly hit a low when it came to Brady. Old rivalries were revisited when Sami and Nicole had a nasty tiff. Eric was horrified by Marlena's huge request. Kristen and Theresa faced off over Brady. Aiden threw caution to the wind with Hope. Sami accused EJ of secretly working with Stefano. Kate and Sami tried to prevent Stefano's imminent return to Salem. Eric gave Kristen his final answer. Clyde met with the competition. Abigail tried to work things out with Ben. Wait to See: Will gets a new job offer.
GENERAL HOSPITAL
Sabrina was stunned by the latest revelations about her car accident. Kiki accidentally eavesdropped on Carly and Sonny's private conversation. Nina encouraged Silas to have a child with her. Ava urged Franco to help her retrieve AJ's recording. Britt questioned the true identity of Nathan's father. Sabrina bumped into the person that she believed caused her crash. Carly asked Kiki for a huge favor. Nina confided in Franco about her baby plans. Sam's suspicions of Nina intensified after visiting the Crichton-Clark Clinic. Spencer and Josslyn plotted to keep Emma and Cameron apart. Nina conspired with Rosalie to take down her next victim. Sam confronted Patrick about why he was so secretive about the clinic. Wait to See: Dante and Lulu face another hurdle.
THE YOUNG AND
THE RESTLESS
Jack broke the news to Summer that he asked Kelly to move in with him. Meanwhile, Kelly wondered if Jack was really ready to let go of Phyllis after all. Stitch told Victoria that Abby kissed him. Nikki tried to maintain her sobriety by attending an AA meeting. Ashley came up with a plan to help Billy win back Victoria. Neil went to see a specialist for his blindness before going back to work again. Jack noticed the chemistry between Devon and Hilary. Colin asked Cane for some business advice. Cane agreed to help him, but only if he came clean about the mysterious meetings he had been having. Ian told Nikki they had some unfinished business together. Wait to See: Phyllis awakens from her coma.
© 2014 King Features Synd., Inc.