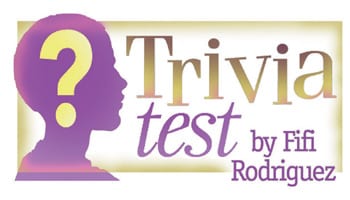 1. GEOGRAPHY: The Yakima River flows through which U.S. state?
2. TELEVISION: What was the theme song to the sitcom "Friends"?
3. MUSIC: What pop music group had a hit album in 1969 titled "The Age of Aquarius"?
4. COMICS: Which comic strip featured a character called "Dragon Lady"?
5. MEDICINE: How long is the average adult's spinal cord?
6. FOOD AND DRINK: What fast-food franchise featured the story of Jared S. Fogle, who lost a lot of weight eating their products?
7. LITERATURE: Where did the Grinch live in the Dr. Seuss story "How the Grinch Stole Christmas!"?
8. MOVIES: What was the name of the mad scientist in "The Rocky Horror Picture Show"?
9. GENERAL KNOWLEDGE: What is the significance of the acronym ROY G BIV?
10. FAMOUS QUOTES: What comedian and actor once said, "A day without sunshine is like, you know, night"?
Answers
1. Washington
2. "I'll Be There For You" (The Rembrants)
3. The 5th Dimension
4. Terry and the Pirates
5. 17 to 18 inches
6. Subway
7. Mount Crumpit
8. Dr. Frank-N-Furter
9. A mnemonic device to remember the colors of the rainbow
10. Steve Martin
© 2014 King Features Synd., Inc.