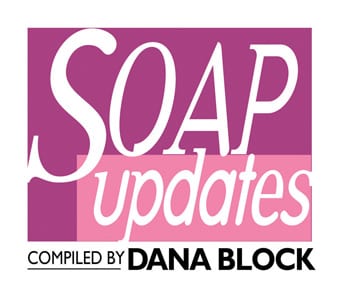 THE BOLD AND THE BEAUTIFUL
Ivy spread word throughout the Forrester Creations' office about Quinn causing her tumble into the river. Hope made a revealing confession to Brooke about her future with Wyatt. After viewing the irrefutable evidence against her, Quinn fessed up to Wyatt about being in Paris. Hope was dumbfounded when she learned that it wasn't fate that pushed her and Wyatt together in wedded matrimony, but Quinn. Quinn turned to an unlikely source for comfort and advice following her fallout with her son. Liam told Quinn that he would do everything in his power to make sure that she was locked up for her transgressions. Wait to See: Maya plays dirty to get what she wants.
DAYS OF OUR LIVES
Chad was back and had a surprising offer for Kate. Hope made a difficult decision regarding her future. Someone unexpected came to Jordan's rescue. JJ tried to convince Paige that he had been set up. Roman urged Sami not to reconcile with EJ. Ben got an unpleasant surprise at work. Will was handed his newest writing assignment — and once again it was about someone close to him. Clyde asked Kate out to dinner. Things heated up between Sami and EJ as they continued to reconnect. Chad accused Ben of stealing. Clyde used Jordan's past to keep her in line. Sonny gave Will some unexpected advice about his new story. Wait to See: Marlena prepares to say a final goodbye to John.
GENERAL HOSPITAL
Danie tried save Lulu from an unforeseen peril. Robin was faced with a double threat. Spencer made another attempt to warn Nikolas about Luke's plot against Sonny. A remorseful Carly planned a huge birthday party for Franco. An uneasy Kiki confided in Silas about Carly's secret. Nina was in desperate need of Rosalie's assistance in her quest for revenge. Sami thought about Jason while on her date with Patrick. Shawn attempted to seize Ava from the penthouse. Franco's birthday prompted Sonny and Carly to reminisce about their friend Jason. Nina revealed an alarming secret to Franco. Kiki had her suspicions about Rosalie. Ava and Morgan shared an honest discussion about their future with the baby. Wait to See: Lucy inspires Scott to make a choice.
THE YOUNG AND THE RESTLESS
Nick and Sharon shared a romantic afternoon together. Phyllis showed more signs of life as her legs began twitching. The blood found on the Newman driveway was traced to Ian Ward. Billy was upset to find Chelsea with someone else at the rooftop bar. Avery was hopeful that Dylan was open to a father-son relationship with Paul. Maureen almost blew Nikki's cover in front of Victor. Michael refused to see a marriage counselor with Lauren. Ian's jacket was found at the quarry. Hilary admitted to Devon that she wanted to be with him. Nick and Sharon planned their future together. Victoria confronted Abby about flirting with Stitch. Nikki accepted a drink from Maureen. Phyllis had a nightmare. Wait to See: Malcolm returns to Genoa City.
© 2014 King Features Synd., Inc.