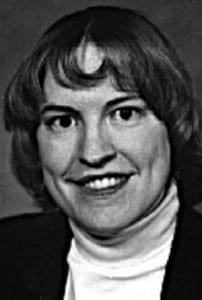 By SUE SUCHYTA

"Tough Cookies," a dramatic one-act comedy by Edward Crosby Wells, runs for one performance at 7:30 p.m. Oct. 4 at the Downriver Actors Guild's Theatre on the Avenue, 2656 Biddle in Wyandotte.
For tickets or more information, call 313-303-5269, or go to downriveractorsguild.net. All seats are $10.
The fundraiser features the talents of Lucinda Chavez of Allen Park as Billie, Michele Devins of Southgate as Jo and Jeanne Edwards of Grosse Ile Township as Mammaw.
Chavez, who also directs the show, plays a long-time friend and neighbor of Jo, a middle-aged woman who takes in her feisty and ungrateful mother, Mammaw, after her father dies. The show focuses on the interactions of the three women.
Set in the Southwest in the 1980s, Chavez has placed the show in a minimalist black box setting well suited to the venue, in a manner that she said does not detract from the storyline.
"The script is wonderfully written and flows very well," Chavez said. "There are hilarious lines throughout mixed in with thought-provoking, troubling dialogue, making this show deeper than the run-of-the-mill comedy."
Chavez said the characters, quirky and extreme, are also very flawed and real. She said her character, Billie, who makes herself at home in Jo's home, is an optimist despite her own struggles.
"She is unintentionally funny and not the most intelligent person, but loyal to Jo regardless of how she is treated," Chavez said. "I found the role easy to portray, and was able to draw on my Southern upbringing and daily struggles to understand the character."
Chavez said it has been a treat to work with Devins and Edwards, both seasoned actresses.
"The chemistry is palpable," Chavez said. "My hope is that the audience will leave the theater feeling they have been a small part of the lives of these women, and go home to appreciate the relationships with their own families just a little more."
Edwards, who has not been in a show in a while, was pleased to be in a show with such strong roles for women, which she said are in short supply.
The show portrays a dysfunctional family that delivers "hate with a smile," she said
"They really love each other, but they say some pretty nasty things to one another," Edwards said. "But the bottom line is they are still caring and loving and when all is said and done they still love each other."
She said audience members might see something from their own life in the show.
"They will see some characters that they can identify with," Edwards said.
She said her character, Mammaw, is a mixture of Mama from "The Carol Burnett Show" and Rose from "The Golden Girls."
"She's a little sharp, a little biting at times and maybe a little senile," she said. "but she means well at times. She's a little rough."
Devins, who usually plays smaller character roles in musical comedies, accepted the role without hesitation when Chavez asked her to play Jo.
"The first time we read through the script together it was just a perfect fit," Devins said. "It just felt right. There are not that many opportunities to see a nice tight piece of theater where the whole cast is equally matched."
Devins said she thinks audience members will enjoy the production.
"They will be glad they saw it," she said. "(There) are not that many opportunities to see a straight (non-musical) show with three strong actresses."
YOUTH THEATER WORKSHOPS SLATED FOR PGD
An educational theater workshop series for children age 8 to 18 will begin with a session from 9 a.m. to noon Oct. 4 at the Players Guild of Dearborn, 21730 Madison. The second session will run from 9 a.m. to 12 p.m. March 28, 2015.
The cost per session is $25 per participant. Registration is due Oct. 2 for the first session. For more information and forms, go to www.playersguildofdearborn.org.
For additional information, contact Julie Malloy at 313-399-7135 or [email protected]
The Oct. 4 workshop will feature three 45-minute sessions, covering stage painting, lighting design, and improvisation.
HFC HOLDS 'HAIRSPRAY' AUDITIONS THIS WEEK
Auditions for the musical "Hairspray" take place from 7 to 10 p.m. Tuesday and Thursday in Adray Auditorium at Henry Ford College. The show will run April 23 to May 3, 2015, for nine performances.
The public are welcome to audition. Course enrollment is required for all cast in the show.
Auditions will include cold readings from the script, a session that will teach a chorus song for later evaluation, and a dance-step combination session.
Those auditioning for specific roles should be prepared to sing either an excerpt of a song from the show or a 1960s-era song of their choice.
For more information, contact Mary Bremer-Beer at 586-264-2611 or [email protected]
FISHER THEATER HOSTS 'ANNIE' FUNDRAISER FOR MICHIGAN HUMANE SOCIETY SEPT. 27
The Michigan Humane Society will benefit from a fundraising night of "Annie" at 7:30 p.m. Saturday at the Fisher Theater. The show runs Sept. 26 to Oct. 4 in Detroit.
MHS supporters can save $10 on each regularly priced ticket purchased for the performance when they use the code "FRIEND" at the time of the sale. For each fundraiser ticket sold, MHS will receive $10.
To purchase fundraiser tickets, call 800-982-2787, or go to www.ticketmaster.com or www.broadwayindetroit.com. Tickets are also available at the Fisher Theater box office.
At the fundraiser, MHS representatives will be on hand with program information, and local ice cream shop Treat Dreams will sell an original flavor, "Annie and Sandy's Smile" with a portion of proceeds benefiting MHS.