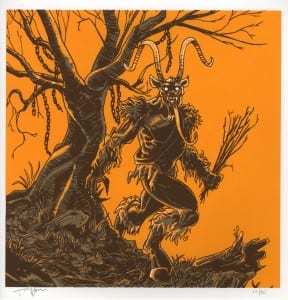 DEARBORN — An exhibit of art featuring Krampus, the dark companion of St. Nicholas, is on display through Sept. 27 at Henry Ford College's Sisson Gallery.
In honor of the 20 artists whose work is on display, the gallery will host a reception from 6 to 10 p.m. Sept. 26. The gallery is in the MacKenzie Fine Arts Center on the main campus, 5101 Evergreen.
Admission and parking are free. Refreshments will be available at the reception. For more information, contact Steve Glazer, HFC Fine Arts instructor, at 313-845-6485 or via email at [email protected].
The 20 artists who took part in the development of this exhibit have produced a limited edition portfolio of 25 pieces of artwork. Each artist was responsible for the production of 25 identical images of their personal interpretation of the Krampus in a 12-inch-by-12-inch format using the print media of his or her choice.
Each artist retains ownership of a copy of the Krampus portfolio, leaving five extra copies for sale and exhibit.
The Krampus is a monster originating from the folklore of Alpine countries. This monster punished naughty children and carried them off in his sack to his lair during the Christmas season. This is the opposite of St. Nicholas (Santa Claus), who rewards well-behaved children with gifts.
The origins of the Krampus date back to pre-Christian times in Europe. By the 17th century, the Krampus had been incorporated into Christmas celebrations by pairing it with St Nicholas.
The Krampus is represented as a beast-like creature.
The Krampus has roots in Germanic folklore; however, its influence has spread far beyond German borders. Traditionally, young men dress up as the Krampus in Austria, Romania, southern Bavaria, Czech Republic, Slovakia, Hungary, Slovenia and Croatia during the first week of December, particularly on the evening of Dec. 5 (the Eve of St. Nicholas Day on many church calendars), and roam the streets frightening children with rusty chains and bells.
The Krampus is featured on holiday greeting cards called Krampuskarten. There are many names for the Krampus, as well as many regional variations in portrayal and celebration.