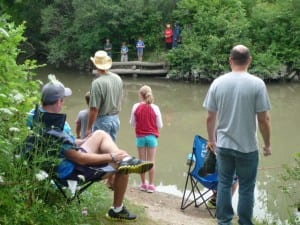 DEARBORN – Eighty-three children, ages 12 and under, caught 99 fish during the Rotary Club of Dearborn Fishing Derby at Homecoming.
This was the 10th year that the Rotary Club has organized and sponsored the Fishing Derby in a reservoir adjacent to the Rouge River and Ford Field Park. Twelve Rotarians plus several family members assisted with the event.
Most fish caught by one child was 22.
"It's a fun activity for families and for our Rotarians," Rotarian and Fishing Derby Chair Merritt Robertson said. "There are a whole lot of fish stories about the fish that got away."
The longest fish caught this year was 12 inches, a bullhead. It was reported that the "one that got away" was significantly larger.
Prizes were awarded for the longest and most fish caught in three different age groups.
Fishing supplies were provided by Eppinger Manufacturing Co. of Dearborn for the catch-and-release event.