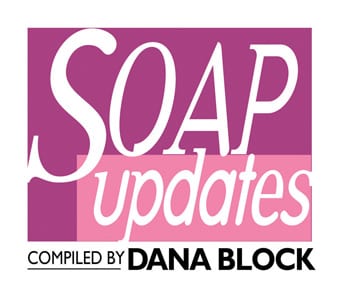 THE BOLD AND THE BEAUTIFUL
Maya planned to use Ridge and Caroline's close working relationship to her advantage. Wyatt made an emotional plea to Hope as to why she should remain in their marriage despite the sketchy circumstances that led to it. Ivy regretted allowing herself to fall for Liam while knowing that he was still in love with Hope. Wyatt apologized to his brother for every negative thing that transpired between them lately. Maya tried to cast doubt in Rick's mind about his wife's faithfulness. Bill believed he had the information he needed in order to get back into Brooke's good graces. Wait to See: Quinn finally pays for her wrongdoings.
DAYS OF OUR LIVES
Nicole begged Eric to testify against Kristen. Eve's plot against JJ could very well backfire on her. Daniel made a sincere plea to a surprised Kristen. Hope gently broke the news to Caroline that she was filing for divorce from Bo. EJ gave Sami a new ring just before they privately exchange wedding vows. Chad revealed his agenda. Kate and Clyde went out to dinner together, where a proposition was soon made. Theresa went to extreme measures to make sure that her secret was safe. Caroline was livid when she realized that Hope was interested in moving on with Aiden so soon. EJ was stunned when his mother, Susan, made a surprise appearance in Salem. Wait to See: JJ tries to defend himself against Eve.
GENERAL HOSPITAL
Robin had an opportunity to reach out to her loved ones. Ava's plan suddenly hit a bump in the road. Franco was busy concocting his latest scheme. Shawn brought Sonny some bad news about Ava. Kiki revealed her secret to Morgan, just as Michael walked in. Julian confronted Sonny about Ava's whereabouts. Later, Julian and Olivia were both disappointed to find out that Alexis and Ned were out on a date together. Nathan asked Maxie an important question. "Fluke" sent an emissary to demand answers from Julian about Ava. In the interim, Sam and Patrick shared their suspicions about Luke with Alexis. Morgan tried to convince Ava not to leave town. Michael and Kiki shared a romantic evening together, but Kiki felt guilty for lying to him. Shawn and Jordan's relationship was put to the test. Wait to See: Michael's life is in jeopardy.
THE YOUNG AND THE RESTLESS
Mariah heard Sharon talking in her sleep about something she was hiding. Summer decided to visit her mother after hearing about Nick and Sharon's engagement. Lauren felt guilty helping Jack redecorate his mansion to suit Kelly's tastes. Phyllis began hitchhiking back to Genoa City. Summer was jealous of Mariah and Austin resolving their differences. Nikki continued her losing battle with sobriety. Christine found Dylan snooping around Paul's desk. Nick wasn't looking forward to hearing his father's reaction to the news of his engagement to Sharon. Michael grew worried when Kevin wouldn't explain why he was leaving town. Chelsea and Billy went on a date. Wait to See: Fen returns home to visit family.
© 2014 King Features Synd., Inc.