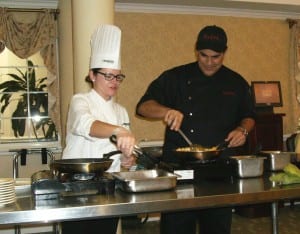 DEARBORN – Residents of Oakwood Common recently were treated to a cooking demonstration and sampling of Puerto Rican delicacies by celebrity chef Jose Santaella, restaurant owner and author of a new cookbook "Cocina Tropical: The Classic and Contemporary Flavors of Puerto Rico" to be released on Oct. 21.
Santaella was invited as part of a regional conference for Morrison Senior Living, hosted by Oakwood Common Dining Services General Manager Steve Berry and staff.
"We were extremely honored to be selected to serve as the venue for this event which featured celebrity chef Santaella along with other outstanding chefs," Berry said. "The event also gave our residents and staff the opportunity to experience a live-cooking demonstration by a celebrity chef, just like on TV."
Santaella trained under some of the most renowned chefs internationally including Parisian native Eric Ripert, who is chef of Le Bernardin, New York City's only four-star seafood restaurant.
Residents expressed their delight with tasty samplings of tostones, which are made from plantains, a Puerto Rican favorite recipe that is featured in Santaella's new book.
Elizabeth Goch, division president of Oakwood post acute care, congratulated Berry and his staff for all their preparations for the conference which attracted more than 100 participants from the Midwest, and to give residents an up close and personal introduction to a celebrity chef.