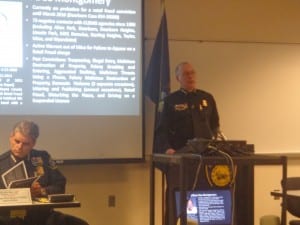 By BOB OLIVER
Times-Herald Newspapers
Law enforcement agencies from 13 metropolitan Detroit communities spent two weeks sharing information and working together in an effort to make the streets safer in local communities.
A press conference highlighting the cooperative efforts was held at the Dearborn Police Department Oct. 4.
"We recognize that the criminal element in southeastern Michigan is highly mobile and that we are all affected by similar crimes," Dearborn Police Chief Ronald Haddad said. "By working together we create a much stronger presence that can deter a criminal from acting."
Haddad said the agencies are always in communication, but between Sept. 15 and 30 "Operation Blue Light" was launched, which made a concentrated effort on the part of each department to make the work highly visible in each community.
Law enforcement agencies from Dearborn Heights, Allen Park, Lincoln Park, Melvindale, Taylor, Detroit, Inkster, Livonia and Redford Township participated, as did the Wayne County Sheriff's Department and Wayne State University Police.
Chiefs from several of the departments were at the press conference.
During the operation, almost 10,000 vehicles were stopped and more than 9,000 traffic violations were issued. More than 650 of those vehicles were impounded.
The stops also led to the arrests of 207 people for felonies, 973 for misdemeanors and 349 for outstanding warrants.
Police also recovered 25 weapons during the stops.
"There is no proactive stat for crimes that didn't happen but we are sure that we have averted some crimes through this operation," Haddad said.
Dearborn Heights Police Chief Lee Gavin said his department recently worked with the Canton Township and Dearborn police departments to capture two people wanted in connection with several purse snatchings and added that having a working relationship with neighboring precincts is important to his department.
"Crime doesn't stop at each one of our borders," Gavin said. "We have to work as a team and put all of our resources together to apprehend criminals."
Detroit Police Assistant Chief Steven Dolunt said working with neighboring communities is a big asset for his department and that he hopes that similar operations occur in the future.
"I think based on the results we have attained, more and more departments will want to work with us and the operation will expand," Dolunt said. "We need to get this type of program in place between the counties, state and individual departments. It's a big asset and it works."
Haddad said the plan is to get an increasing number of communities involved and hold similar operations in the future.
"It is our hope that more cities jump on board next time," Haddad said. "We'd like to get more suburban communities both on the north side of Detroit and in the Downriver area involved. The bigger the stretch of communities involved is, the more effective the operation can be."
(Bob Oliver can be reached at [email protected].)