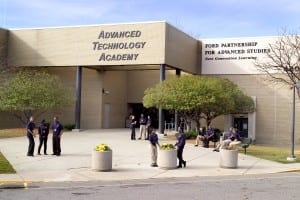 By CYNTHIA ANDERSEN
Advanced Technology Academy Principal
DEARBORN — There is a real "urgency for change" in educating our students. The world of work has changed and requires more education and higher level thinking and problem-solving skills.
We have a global economy which means our students need to be prepared to compete in this new arena by taking more rigorous classes. The following are some of the new programs and initiatives we are putting in place to meet the 21st century career requirements.
At the Advanced Technology Academy high school, we have implemented the Project Lead the Way program. This is a national engineering, science and technology curriculum. All our ninth-grade students will go through this first-year program and can continue taking PLTW classes if they choose to be in the engineering pathway.
We have an expanded concurrent enrollment program — college credit classes — for students who qualify. These courses are more rigorous but they also prepare students to be successful when they go to college or pursue their career. We currently offer college credit classes through Lake Superior State University, Davenport University, Eastern Michigan University and Henry Ford College.
We have partnered with several agencies that enhance student learning. Henry Ford Health System comes in to conduct a class one day a week on proper nutrition and healthy living to our students in the health care track.
The Ford High School Partnership Program has adopted ATA to present many worthwhile programs on diversity, six sigma quality controls systems, mock interviews, resume writing and financial literacy.
In order for students to graduate career and college ready, we have programs that are accelerated and additional programs that assist students in areas where they might need extra help and guidance. It is the mission of ATA to make sure our students are career and college ready when they graduate.
New this year is our University Career Center. This center will be used for university and college presentations, college applications and assessments, career planning classes and community presentations to parents.
We also know that students need to be socially prepared, so we offer several clubs, sports and activities after school for students to interact with other students outside of ATA. We have coordinated learning experiences that students may attend during the year. These coordinated learning experiences can be anything from college fairs, Detroit Economic Club luncheons, trips to the Detroit Institute of Arts and Detroit Symphony Orchestra or the state capitol.
About Advanced Technology Academy
Since 1999, the Advanced Technology Academy at 4801 Oakman Oakman Blvd. has provided a unique K-12 education opportunity to residents of southeast Michigan. A tuition-free Michigan public school, ATA's mission is to provide students with a high-quality interdisciplinary learning experience that is academically challenging. The academy partners with the community, business and institutions of higher education to create a learning environment that prepares students for success in college and professional careers. Learn more at www.atafordpas.org or by calling 313-625-4701.