Photos courtesy of Downriver Central Animal Control
Amos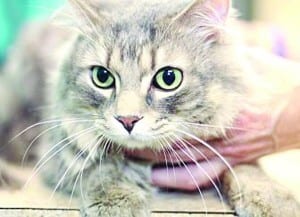 Amos, an adult male domestic longhair, was found completely matted but is looking sleek now. He is one of the calmest, nicest and friendliest cats the shelter has ever seen. He is neutered, up to date with shots, and good with children, dogs, and other cats.
Honey


Honey, an adult female domestic shorthair, is good with children, dogs and other cats. She is spayed and up to date with shots.
Stella


Stella, a 14-week-old female pit bull terrier/Labrador retriever mix, is very friendly and playful. She is a younger dog so she will need training. Also, be prepared for boundless energy. She is spayed, up to date with shots, and good with children, cats and other dogs.
Dog adoption fees are $95 and cat adoption fees are $65 (both in cash). Fees include spaying or neutering, first distemper vaccine and a rabies vaccine if the animal is old enough. The Wyandotte Animal Pound is at 1170 Grove, west of 11th Street. Adoption hours are 5:30 to 7:30 p.m. Monday, Tuesday and Friday, 10 a.m. to 2 p.m. Saturday and 10 a.m. to 1 p.m. Sunday. For more information call 734-324-4445 or go to www.wacshelter.com.