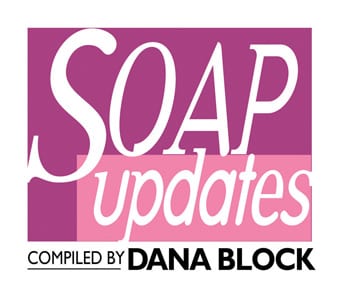 THE BOLD AND THE BEAUTIFUL
Bill's anger turned to rage when Caroline described her recent dealings with Ridge and the fallout with Rick. Maya was on the receiving end of Ridge's anger when he warned her about the inevitability of a Rick and Caroline reconciliation. An acquaintance from Genoa City arrived at the Forrester Creations fashion show with more than the new collection on her mind. Ridge and Bill got into a physical altercation backstage. Maya exuded her newfound confidence on the catwalk. Eric issued Rick an ultimatum about Caroline's collection. Carter set Maya straight about her lack of importance in the company —  and as a model. Wait to See: Katie asks Ridge if they have a future together.
DAYS OF OUR LIVES
Kate was furious when Chad blackmailed her. Marlena reached out to Jordan. Abigail and Anne had a war of words at the hospital. Hope was disturbed by what she found on Aiden's tablet. Theresa decided to put her romance with Brady behind her and set her sights on Paul. Clyde tried to outmaneuver Jordan by meeting with Marlena. A very upset Hope confronted Aiden about her discovery. Eve pressured JJ to end things for good with Paige. Melanie made a surprise return to Salem. Jennifer was stunned by Eve's admission. Sonny wasn't happy when he learned what Chad had been keeping from him. Daniel and Nicole ended up in a compromising position. Stefano learned about Chad's betrayal. Wait to See: Maggie reunites with Melanie.
GENERAL HOSPITAL
In order to protect his loved ones, Sonny came forth with the truth. Jordan and Shawn finally told TJ about his father. Michael was disturbed by what he thought Kiki helped arrange. Anna brought Julian into her office for questioning. Ava procured Silas to help her in her time of need. Sam and Patrick began to question Larry's motives. Franco comforted a delusional Nina. Britt made a surprising revelation to Nikolas. Anna divulged some information to Obrecht about Faison. Sam and Patrick updated Lulu on the Larry situation and asked her for some assistance. Spencer tried to win back Emma. Sam and Patrick discovered a questionable file that Larry left behind. Britt and Nikolas were in for a shock. Wait to See: Jake has a strange encounter.
THE YOUNG AND THE RESTLESS
Chelsea asked that the charges be dropped against Stitch. Sharon tried to figure out her future with Nick. Jack was surprised to find the engagement ring he had given Phyllis back in its box. Meanwhile, Kelly tried to distract herself with work to keep her mind off Jack. Colin told Devon that he knew all about his affair with Hilary. Sharon confronted Avery. Joe approached Lauren with a development proposal, stating that it would be the perfect place for one of her boutiques. Lily pressured Devon to introduce his mysterious new girlfriend to the family. Colin got honest with Jill, telling her that he had to pay off Kurtz. Wait to See: Victor and Nikki host Thanksgiving dinner at the ranch.
© 2014 King Features Synd., Inc.