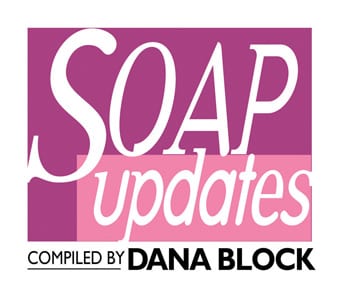 THE BOLD AND THE BEAUTIFUL
Feeling as if she must step in as the matriarch of the Logan family, Katie confronted Maya about her intentions toward Rick. Eric and Taylor shared a connection as the two discussed love and loss. Ridge had conflicted feelings when Katie put him on the spot regarding the status of their relationship. Rick revealed to a heartbroken Maya that he decided to work on his marriage with Caroline. Everyone except Quinn was invited to Thanksgiving dinner at the Forrester mansion. In honor of the holiday, Rick set his animosity aside for Ridge. Hope brought back the tradition she created last year of asking each dinner guest to say something nice about the person next to them. Wait to See: Deacon had a stern but loving warning for Quinn.
DAYS OF OUR LIVES
JJ finally came to a decision about his future with Paige. Maggie reunited with Melanie, who did her best to cover up a secret. Daniel and Nicole tried to resist their obvious attraction to one another. Sonny demanded to know if he could trust Chad as his business partner. At Daniel's apartment, Melanie confronted a towel-clad Nicole about her new "friendship" with her father. Jordan had a stunning realization about Kate. Chad walked in on Paul shamelessly flirting with Jordan. Clyde had his first therapy session with Marlena. Melanie set things straight with Chad and then had an eye-opening encounter with Ben. Jordan blasted Kate for bringing Clyde to Salem. Wait to See: Sonny gets a major shock.
GENERAL HOSPITAL
Anna was caught off guard, forcing her to disclose more about what went down with Faison. Alexis was furious with Julian and demanded more answers about his involvement in the latest crimes. TJ and Molly bonded over their fathers. Jordan and Shawn were worried about TJ. Alexis and Julian had two unexpected run-ins. Sonny asked Duke for a favor. Carly was heartbroken over Michael's latest actions. After a difficult night, Elizabeth asked Jake to Thanksgiving dinner. Duke had a proposal for Anna. Alexis and Julian made a huge discovery. Meanwhile, all walks of Quartermaines gathered together to see if they would have a normal turkey dinner. Jake received a mysterious visitor. Wait to See: Franco lets down his guard.
THE YOUNG AND THE RESTLESS
Devon and Hilary shared a romantic dance in the Jabot office. Nick decided to leave town to clear his head and get some space from Sharon. Victor told Nick to stop running away from his problems. Stitch told Kelly the truth about Maureen and their father. Kelly was devastated but encouraged Stitch to move on with his life. Cane assured Colin that he was happy being out of the corporate world. Sage encouraged Adam to slow down before returning to Genoa City. Later, Adam had a nightmare and screamed out Chelsea's name. Ashley informed Billy that he was kidding himself that he wasn't still in love with Victoria. Wait to See: Adam returns to town.
© 2014 King Features Synd., Inc.