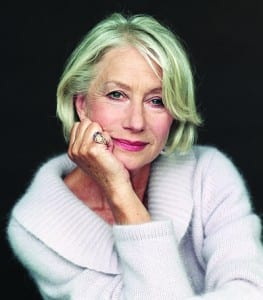 HOLLYWOOD —  Jake Gyllenhaal, whose "Night Crawler" cost $8.5 million to make and earned $35 million, recently completed "Everest," which is based on the Mount Everest disasters of 1996 in which several climbers died. It also stars Sam Worthington, Josh Brolin, Keira Knightley and Robin Wright. He's currently working on "Southpaw," with Rachel McAdams and Forest Whitaker. Jake filmed David O'Russell's "Nailed" in 2008 with Jessica Biel and James Marsden. However, due to financial struggles, the film shut down 12 times and O'Russell quit as director. The film, which is 99 percent completed, was acquired recently by Arrow films, which finished the movie and plans to release it in the U.K. next year. O'Russell is a great director, but can this film, now titled "Politics of Love," survive the test of time?
* * *
Helen Mirren has completed the thriller "Eye in the Sky" with Aaron Paul and Alan Rickman; "Woman in Gold" with Ryan Reynolds, Katie Holmes, Max Irons, Jonathan Price and Elizabeth McGovern; and "Trumbo," as legendary columnist Hedda Hopper, with Bryan Cranston. She's now headed for Broadway, where she'll again play Queen Elizabeth in "The Audience," to Judith Ivey's Margaret Thatcher and Dylan Baker's John Major. Peter Morgan, who wrote "The Queen," for which Mirren won an Oscar, also wrote this play, which opens March 8.
* * *
Matt Damon has bounced from the space drama "Interstellar" to Ridley Scott's "The Martian." Damon plays American astronaut Mark Watney, who becomes stranded alone on Mars and must improvise to survive. It also stars Jessica Chastain, Jeff Daniels and Kristen Wiig. Author Andy Weir couldn't find a publisher, so he self-published in 2012 and in three months sold 35,000 copies on Amazon.com. In 2014, Crown Publishing bought the rights for six figures, and now it will be a major movie hitting theaters Nov. 25, 2015. Now that's a success story!
* * *
The lion suit worn by Bert Lahr, The Cowardly Lion in "The Wizard of Oz," was left in an abandoned building at MGM and recovered by a junk dealer who cleaned out the building. Eventually, he sold it to a collector, who now has sold it at auction for a mere $3,077,000. The piano on which Dooley Wilson ("play it again, Sam") played "As Time Goes By" in "Casablanca" also was sold, for $3,413,000. This, on the heels of the statue from the Humphrey Bogart film "The Maltese Falcon" selling for $4,085,000. But the top-selling items of all time are James Bond's (Sean Connery) Aston Martin from "Goldfinger" and the Batmobile driven by Adam West in the "Batman" TV series, both of which brought in $4.6 million. Gotta go check my memorabilia to see what I've got to auction off!
© 2014 King Features Synd., Inc.