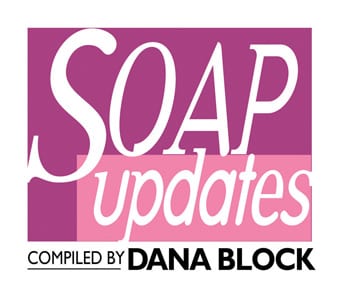 THE BOLD AND THE BEAUTIFUL
Liam grilled Deacon about how he could remain in a relationship with someone as manipulative as Quinn. Meanwhile, Quinn got a dose of reality when she overheard what the guests were saying about her at Hope's baby shower. Ivy and Hope mutually set aside their differences when they realized that they would always be in each other's life. When Wyatt voiced his concern about how his mom was negatively affecting his marriage, Bill suggested that he take drastic measures to ensure that his family remain intact. As a promise to Hope, Liam vowed to protect her and her baby from any threat. Quinn made an emotional plea to Deacon to speak to Hope on her behalf. Wait to See: Wyatt severs ties from his past.
DAYS OF OUR LIVES
Melanie panicked when Daniel told her about the mysterious phone call that he just received. JJ told Paige that he wanted to keep seeing her, but that they must keep their relationship a secret. Nicole tried to clarify matters with Eric. Adrienne gave Sonny some stern advice. Eve enlisted Theresa's help in breaking up Paige and JJ. A furious Rafe confronted Kate about her conniving ways. Ben demanded answers from Clyde about the lie he told. Hope was thrown when she learned an interesting tidbit about Aiden from Chase. Rafe tried to convince Jordan that she was making a big mistake with Chad. Stefano delighted in rattling Kate's nerves. Daniel realized that Melanie wasn't being completely honest. Clyde and Jordan had another big blowup. Wait to See: Melanie's secret is revealed.
GENERAL HOSPITAL
Alexis told Molly something important about her father. Madeline threatened to expose one of Obrecht's lies if she didn't help her with her case. Nikolas was furious about a recent finding. Nina and Franco picked a name for the baby. Patrick made a difficult admission to Sam. Spencer demanded answers from Nikolas. Jake recognized a mysterious visitor at Thanksgiving. Brad had some important advice for Britt. Anna apologized for a recent incident, but ensured everyone that they were safe. Jake found himself in a quandary that could get him into trouble. Sabrina apologized to Michael about pointing him in the wrong direction regarding AJ's murder. Wait to See: Sonny learns who rules the roost at the prison.
THE YOUNG AND THE RESTLESS
Summer threw Sharon out when she tried to visit Nick. Joe criticized Michael for not keeping up with the details of the real-estate project. Stitch confided in Chelsea that he feared losing Victoria to her ex. Kelly lost confidence in her relationship with Jack after overhearing his conversation with Abby. Hilary tried to play cupid with Devon and her co-worker Gwen. Phyllis and Billy got into an altercation after she boldly told him that she wanted her position back at Jabot. After learning more about Adam's past, Sage warned him not to mess up the deal they had together. Wait to See: Adam crosses paths with Chelsea.
© 2014 King Features Synd., Inc.